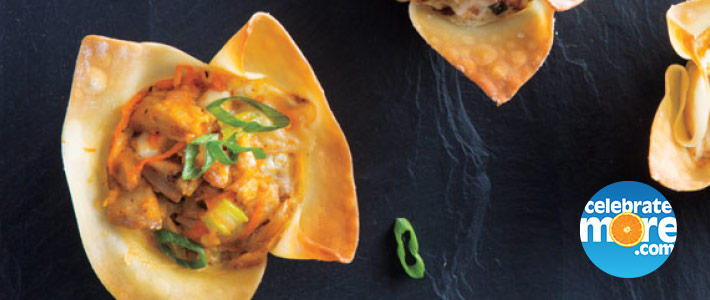 Buffalo-Ranch-Chicken Wonton Bites
Prep: 45 minutes
Cook: 10 minutes • Serves: 18
3
cups finely chopped Goldn' Plump rotisserie chicken meat
3/4
cup finely chopped celery
1/2
cup crumbled blue cheese
1/2
cup finely grated carrot
1
garlic clove, crushed with press
1/2
cup buffalo wing sauce
1/2
cup Food Club ranch dressing
1/4
teaspoon salt
1/4
teaspoon ground black pepper
Nonstick cooking spray
36
wonton wrappers
Thinly sliced green onion for garnish (optional)
1.Preheat oven to 350°F. In large bowl, toss chicken, celery, blue cheese and carrot.

2.In medium bowl, with spatula, fold garlic, buffalo wing sauce, ranch dressing, salt and pepper until well combined; fold in chicken mixture.

3. Spray mini muffin tin(s) with nonstick cooking spray; line each cup with 1 wonton wrapper. Spoon about 1 heaping tablespoon chicken mixture into each wrapper.

4.Bake 12 to 15 minutes or until wonton edges are crispy and golden brown and filling is heated through. Garnish with green onions, if desired. Makes 36 bites.


Approximate nutritional values per serving (2 bites):
163 Calories, 7g Fat (3g Saturated), 53mg Cholesterol,
614mg Sodium, 10g Carbohydrates, 0g Fiber, 11g Protein