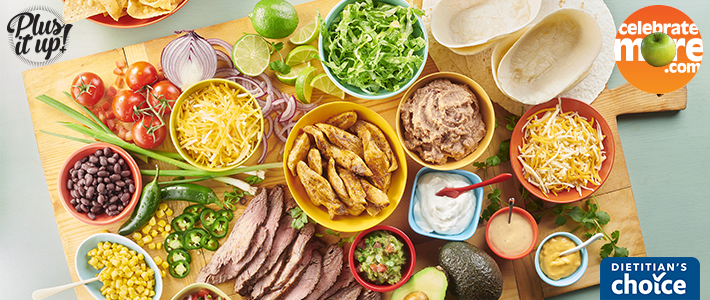 Build Your Own Burrito Board
Ingredients
STEAK
2 Tbsp. Vegetable Oil
1 Beef Flank Steak (1 1/4 to 1 1/2 lb), trimmed of visible fat
1 Pkg. (1 oz) Old El Paso™ Original Taco Seasoning Mix
CHICKEN
1 Tbsp. Vegetable Oil
1 lb. Boneless Skinless Chicken Breasts, cut into 1/2-inch strips
1/4 C. Water
1 Pkg. (0.85 oz) Old El Paso™ Chicken Taco Seasoning Mix
BOWLS AND TORTILLAS
1 Pkg. (8 count) Old El Paso™ Soft Tortilla Bowls, heated as directed on package
1 Pkg. Old El Paso™ Flour Tortillas For Burritos (8 inch), heated as directed on package
BEANS AND CHEESE
1 Can (16 oz) Old El Paso™ Traditional Refried Beans, heated as directed on can
1 1/2 C. Old El Paso™ Shredded Mexican Style 4 Cheese Blend (6 oz)
1 1/2 C. Old El Paso™ Shredded 3 Pepper Cheese Blend (6 oz)
TOPPINGS, AS DESIRED
Avocado, chopped
Jalapeño Chiles, sliced
Romaine Lettuce, shredded
Green Onions, chopped
Tomatoes, chopped
Fresh Cilantro Leaves, chopped
Old El Paso™ Crema Mexicana
Guacamole
Pico de Gallo Salsa
Old El Paso™ Creamy Queso Sauce
Old El Paso™ Zesty Ranch Sauce
Instructions
In 2-quart saucepan, add rice (from burrito bowl kit), and water and butter as called for on package. Heat to boiling, stirring frequently. Reduce heat; cover and simmer about 20 minutes or until rice is tender and liquid is absorbed. Remove from heat; let stand 5 minutes.
In 10-inch skillet, cook beef over medium-high heat 6 to 7 minutes, stirring frequently, until thoroughly cooked; drain. Stir in 2/3 cup water and seasoning mix (from burrito bowl kit); heat to boiling. Reduce heat; simmer uncovered 2 to 4 minutes, stirring frequently, until thickened.
Divide rice among 4 serving bowls. Top with beef, beans, cherry tomatoes, cheese, tortilla chips, queso blanco sauce (from burrito bowl kit), taco sauce and green onions.
Chef Tips: We call for Old El Paso™ Mild Taco Sauce in this recipe, but if you'd prefer a bit more heat in your beef burrito bowl recipe, feel free to substitute Old El Paso™ Medium Taco Sauce.
Chopped avocado, or a dollop of guacamole would make a delicious additional topping to this burrito bowl.
Notes
Expert Tips:
Like a lot of fresh toppings? Be sure to start prepping and chopping your vegetables ahead of time so you are ready to serve once the meats are cooked.
Make it your own! Serve your favorite toppings such as black beans, corn or chopped red onion to create your own burrito board. Add lime wedges and tortilla chips to complete the board.
Try Instant Pot® Cilantro-Lime Rice as another filling for your burritos.
Craving tacos? Make this a taco board! Replace flank steak with 1 lb ground beef, and follow package directions on back of Old El Paso™ Original Taco Seasoning Mix. Add Old El Paso™ Stand 'N Stuff™ Taco Shells and taco sauce to complete your taco board.
Recipe sponsored by General Mills, Old El Paso
Hosting a party? This Build-Your-Own Burrito Board with taco seasoned steak and chicken, cheese, and loads of fresh toppings in flour tortillas easily feeds a crowd without a lot of work.
Mix up your taco night – Build Your Own Burrito Board! It's great for entertaining or for a fun family dinner. If you love all things burrito-y, you'll also love these Chicken & Black Bean Burritos.
Shop from the comfort of your home! You can shop online at any of our proud family of stores for these recipe ingredients as well as the rest of your grocery list! We offer curbside pick up at all locations and delivery in select locations as well. Don't forget to connect your MORE Rewards account when you shop online for extra savings, digital coupons, and many other rewards too!

Shop Ingredients