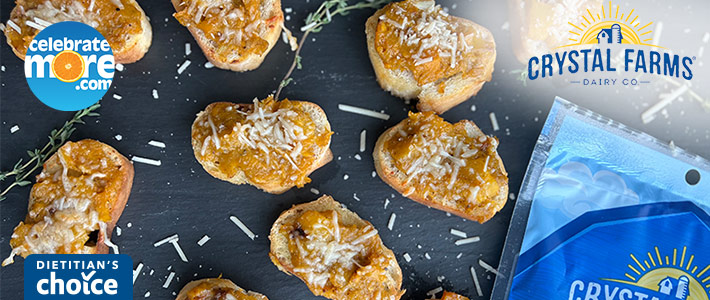 Butternut Squash Bruschetta
Try something new with this Butternut Squash Bruschetta recipe – the festive Fall flavors make it a great appetizer for entertaining! Our dietitians are adding new recipes all the time, so check out our Dietitians Choice Recipes page for all their latest recipes!
Shop from the comfort of your home! You can shop online at any of our proud family of stores for these recipe ingredients as well as the rest of your grocery list! We offer curbside pick up at all locations and delivery in select locations as well. Don't forget to connect your MORE Rewards account when you shop online for extra savings, digital coupons, and many other rewards too!
Butternut Squash Bruschetta
Ingredients
1 Baguette, cut into pieces with 1/4 inch width
2 Tbsp. + 4 Tbsp. Extra Virgin Olive Oil
1 Butternut Squash, cubed (about 1.5 Lbs.)
3 Cloves Garlic, peeled
1 tsp. Ground Sage
Salt & Pepper, to taste
3/4 C. Crystal Farms Shredded Parmesan Cheese
Instructions
Preheat oven to 400F.
Spread diced butternut squash and garlic cloves onto a baking sheet and drizzle with 2 Tbsp. Olive oil. Top with salt, pepper, and ground sage. Toss to coat. Bake for 45 minutes, or until squash is fork tender. Allow to cool for a few minutes.
Lower the oven temperature to 375F.
Arrange bread slices on a prepared baking sheet, and brush with olive oil. Bake for 3-5 minutes, flip, and bake 3-5 minutes more.
Meanwhile, transfer all the contents of the butternut squash pan into a large bowl. Use an immersion blender or a food processor to blend and combine all the ingredients. Blend carefully, as contents will be hot. (The ingredients should be soft enough that you can even mix with a spoon, gently "mashing" the mixture)
Using a butter knife or spatula, spread the butternut squash mixture onto each toasted piece of bread and place back on baking sheet.
Top each bruschetta with 2-3 tsp.. parmesan cheese.
Broil for 3-5 minutes, or until the cheese is browned and bubbling. Allow to cool and top with fresh chopped sage leaves, if desired.
Shop Ingredients