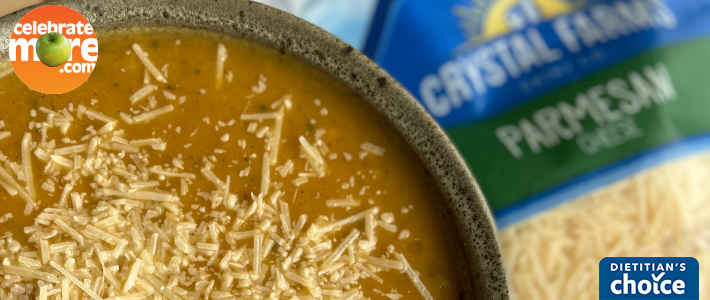 Total Time
1 hour, 30 minutes
Ingredients
3 Tbsp. Olive Oil
1 Large Yellow Onion, diced
3 Cloves Garlic, minced
1 Butternut Squash, cubed (about 3 pounds)
1/2 tsp. Ground Sage
6 C. Chicken Broth, low-sodium
2 tsp. Fresh Oregano, chopped
1 Tbsp. Fresh Sage, chopped
3/4 C. Crystal Farms® Shredded Parmesan Cheese
Salt and Pepper, to taste
Instructions
Preheat oven to 400°F.
Spread diced butternut squash on a baking sheet and drizzle with 2 Tbsp. olive oil. Top with salt, pepper, and ground sage. Toss to coat. Bake for 45 minutes, or until squash is fork-tender.
Heat 1 Tbsp. of olive oil in a large pot. Add onions and sauté until soft, 2-3 minutes. Add garlic and sauté until fragrant.
Add low-sodium chicken broth, fresh oregano, and fresh sage. Stir until heated through.
Add cooked butternut squash to the pot. Use an immersion blender or food processor to blend ingredients. Blend carefully, as contents will be hot.
Simmer on medium-low heat until heated through. Add Crystal Farms® Shredded Parmesan Cheese and stir until combined. Serve warm!