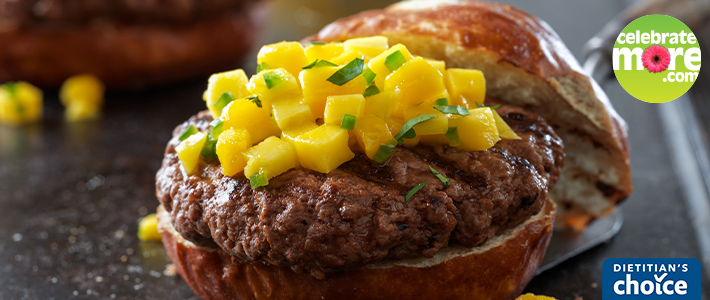 Caribbean Beef Burgers with Mango Salsa
Spicy, sweet and oh-so-simple. Ground Beef gets a peppery boost from jerk seasoning, and the freshly chopped mango salsa gives the dish a cool finish.
Ingredients
1-1/2 lbs. Ground Beef (93% lean or leaner)
2 Tbsp. Caribbean Jerk Seasoning
Mango Salsa:
1 Large Mango, peeled, coarsely chopped (about 1 cup)
1 Tbsp. Chopped Fresh Cilantro
1 Tbsp. Chopped Green Onion
1 Tbsp. Finely Chopped Seeded Jalapeño Pepper
1 Tbsp. Fresh Lime Juice
Instructions
Combine ground beef and jerk seasoning in large bowl, mixing lightly but thoroughly. Shape into four 3/4-inch thick patties.
Preheat grill to medium-high heat.
Grill patties for 13-14 minutes, or until instant-read thermometer inserted horizontally into center registers 160°F, turning occasionally. Lightly season with salt, as desired.
Meanwhile, combine salsa ingredients in medium bowl, mixing lightly. Serve burgers with salsa.
Notes
Cook's Tip: Cooking times are for fresh or thoroughly thawed ground beef. Ground beef should be cooked to an internal temperature of 160°F. Color is not a reliable indicator of ground beef doneness.
Recipe and image courtesy of BeefItsWhatsForDinner.com.