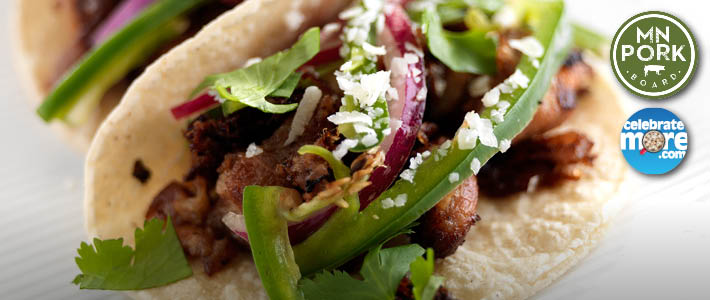 Ingredients
Pork
10 lbs. Pork Shoulder
Salt and Pepper
Garlic Powder
1/2 C. Lard or Butter
1 Large Onion, diced
2 Oranges, cut into 8 wedges
1 Lemon, cut into 8 wedges
1 Lime, cut in 8 wedges
6 Cloves Garlic
1/2 Cup Sweetened Condensed Milk
2 Bay Leaves
1 Tbsp. Cumin Seed
1 Cinnamon Stick
Corn Tortillas
Toppings
Cotija Cheese
Cilantro
Pickled Jalapeno
Lime Wedges
Instructions
Season the cubed pork shoulder liberally with salt, pepper and garlic powder.
Massage the seasonings into the pork and place into a refrigerator for 30 minutes.
Heat a medium sized skillet over medium high heat and melt the lard. Working in batches, sear the pork shoulder until golden brown on all sides. Drain the pork and reserve.
Add the onion, orange, lemon, lime and garlic cloves. As the aromatics release their juices, stir and scrape the fond from the bottom of the rondeau. Add back the browned pork, sweetened condensed milk, bay leaves, cumin seeds, cinnamon sticks and enough water to just barely cover the pork. Bring to a simmer and braise the pork until all the water has cooked away and the meat is fork tender, around 2 hours.
Serve on corn tortillas and garnish with Cotija cheese, fresh cilantro, pickled jalapeños and lime juice.