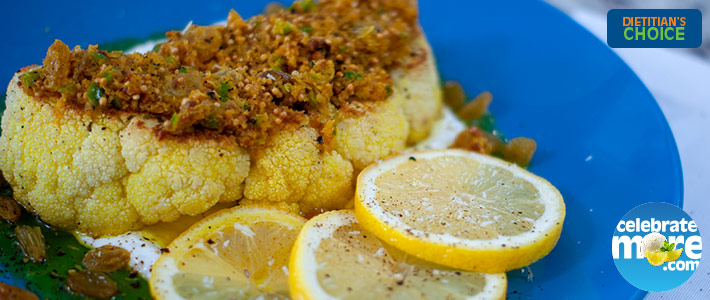 Cauliflower Steaks With Coconut Turmeric Relish
Ingredients
1 Head Cauliflower
3 Tbsp Extra-Virgin Olive Oil, divided
Salt & Pepper
Plain, Fat Free Greek Yogurt
Coconut Turmeric Relish
1/4 Cup Golden Raisins
1/4 Cup Fresh Lemon Juice
2 Tbsp Minced Garlic
1/3 Cup Extra-Virgin Olive Oil
1/4 Cup Unsweetened Coconut Flakes
1 Jalapeno Chile, seeds removed, finely chopped
1 Tbsp Ginger Paste
1 Tbsp Mustard Seeds
1/2 tsp. Ground Turmeric
Salt & Pepper
Instructions
Combine raisins and lemon juice in a small bowl; set aside for raisins to plump.
Meanwhile, preheat oven to 400°F.
Then begin by combining garlic, oil, and coconut in a small saucepan and set over medium-low heat. Cook, swirling pan often, until oil is bubbling and garlic and coconut are golden, 6–8 minutes. Remove from heat. Stir in jalepeno, ginger, mustard seeds and turmeric. Transfer to a heatproof measuring glass and let cool.
Then start steaks by remove toughest outer leaves from cauliflower and trim the stem. Stand upright on stem and cut in half from top to bottom, creating two lobes with stem attached. Trim off outer rounded edge of each piece to create two steaks about 1-2" thick.
Heat 2 Tbsp. oil in skillet over medium heat. Cook cauliflower, until golden brown, about 5 minutes.
Add remaining oil to skillet and flip steaks. Season with salt and pepper. Cook until second side is golden brown, about 3 minutes. Transfer steaks to pre-greased baking dish and put in oven. Roast just until stems are tender when pierced with a cake tester or toothpick, 8–12 minutes.
Once steaks are almost done roasting, add plumped raisins and lemon juice to garlic mixture and toss to coat.
Remove steaks from oven and allow to cool slightly.
Spread a layer of yogurt on plate and place steak on top. Cover steak with relish.
Serve with a side of brown rice or quinoa for a more complete and balanced meal!