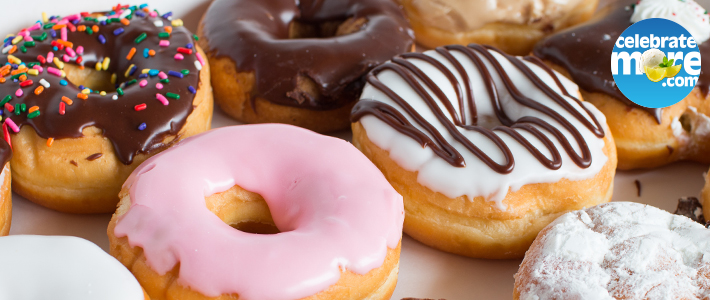 Celebrating National Donut Day
It seems as if there is a National Day for just about everything, but National Donut Day, is definitely one worth celebrating! This year, National Donut Day is on Friday, June 3rd. On that day we are donating 30¢ for every package of donuts sold to the Salvation Army to support their efforts of those in need. Be sure to pick up a package!
Did you know? The Salvation Army created National Donut Day in 1938 to honor the women who served doughnuts to soldiers in World War 1. This day began as a fundraiser for Chicago's Salvation Army. The goal of their 1938 fundraiser was to help those in need during The Great Depression. Coborn's Inc. has participated in the National Donut Day program to support the Salvation Army for over 10 years! In 2021, a $1,507 donation check was presented to the St. Cloud Chapter of the Salvation Army.
Remarkably Fresh Donuts made in our own Central Bakery!
We're all about fresh, and our donuts are no exception. We have our own Central Bakery in St. Cloud MN that produces approximately 50,000 donuts and rolls per day, 6 days a week. (Talk about a sweet tooth!) Our Central bakery delivers fresh baked goods to all our Coborn's, Cash Wise, and Marketplace Foods stores.
Employee Spotlight: Meet Marv
Marvin ("Marv") has been with the company for 16 years! He is currently the Assistant Plant Manager at our Central Bakery. He has held many roles within the Central Bakery and even owned his own bakery before joining our team. This guy knows his stuff!
When talking with Marvin last week, he gave us an inside scoop on some fun facts about our Central Bakery and our incredibly delicious donuts. Don't forget to check out our Coborn's and Cash Wise Instagram accounts for a behind-the-scenes sneak peek on how our donuts are made.
A Few REMARKABLE fun facts about our fresh donuts:
A good donut always starts with quality ingredients. We're proud to source all of our ingredients locally. Our skilled bakers carefully monitor the time and temperature of the batter and oils to make a perfect, golden brown donut.
Approximately 50,000 donut pieces are produced each day, and it takes about 20+ remarkable employees to get the job done.
Do you love the icing and sprinkles?! These donuts are hand-dipped in icing and sprinkled to perfection. It's not as easy as it sounds- these remarkable employees have the magic touch to make these donuts taste AND looks incredible!
We have delivery trucks leaving the Central Bakery 6 days a week, bringing fresh baked goods to your local Coborn's, Cash Wise and Marketplace Foods stores.
We produce 18 types of donuts daily, and a flavored donut hole of the month.
We produce cake donuts and raised donuts. The difference? Cake donuts use baking soda to rise, raised donuts use yeast. Both are delicious!
We hope you lean in and celebrate National Donut Day with us on Friday, June 3, 2022 to support the Salvation Army.