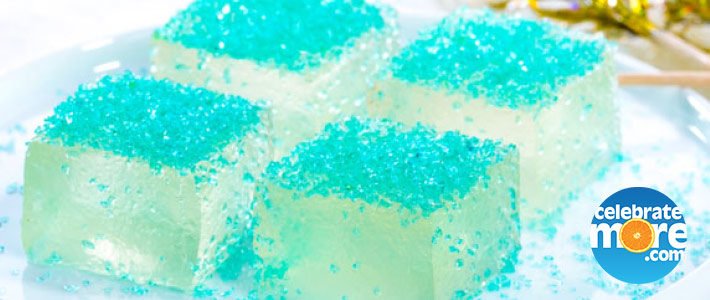 Champagne Jello Shots
In small saucepan, stir 10 ounces Champagne or sparkling wine and 2 tablespoons granulated sugar; sprinkle with 3 envelopes unflavored gelatin and let stand 2 minutes. Heat Champagne mixture over low heat 2 minutes or until gelatin dissolves, stirring constantly. Remove from heat; stir in 5 ounces Champagne. Pour Champagne mixture into a loaf pan; refrigerate at least 4 hours or overnight.
To unmold, dip bottom of pan into warm water; carefully run knife along edges. Flip over onto cutting board. Cut into small squares and arrange on serving plate; sprinkle with blue sugar sprinkles.