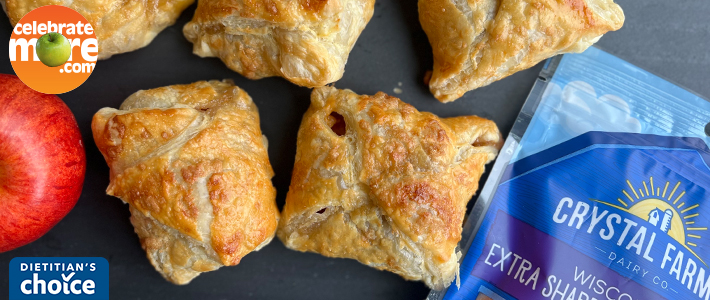 Cheddar Apple Puff Pastry
Ingredients
1 Pkg. Puff pastry
2 Gala Apples, diced
1 Egg, beaten
1/2 C. Chopped Pecans
1 Tbsp. Brown Sugar
8 oz. Crystal Farms® Shredded Cheddar Cheese
Instructions
Thaw puff pastry sheet to room temperature.
Preheat the oven to 400°F.
Prepare a baking sheet with parchment paper and roll out the puff pastry and cut into 8 squares.
Combine nuts and brown sugar in a small dish. Place ¼ cup apples, 2 Tbsp. Crystal Farms® Shredded Cheddar Cheese, and 1 Tbsp. nut mixture in center of each pastry.
Wrap up and use egg wash to secure edges and coat the outside of the pastry. Sprinkle with brown sugar.
Bake for 15-20 minutes, or until golden brown.