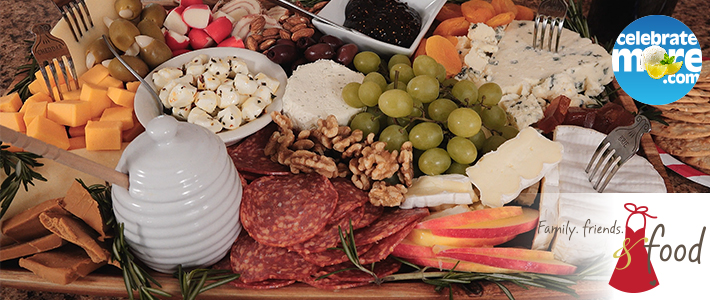 Ingredients
Pick any finger foods of your liking!
Aged Cheese – Cheddar, Gruyere or Gouda
Soft Cheese – Brie Camembert, Mozzarella Pearls, or Goat
Firm Cheese – Manchego, Parmigiano-Reggiano, Edam
Blue Cheese – Gorgonzola, Roquefort, Stilton
Apples
Grapes
Pears
Dried Apricots
Honey
Fig Spread
Boursin Cheese
French Baguettes
Bread Sticks
Almonds
Walnuts
Mixed Nuts
Variety of Hard Salami – Hot Salami, and Cracked Pepper Salami
Olives – Kalamata Olives, Green Olives/Pimento, Green Olives/Garlic Cloves, Green Olives/Blue Cheese
Fresh Rosemary – from the Produce Department as a garnish to decorate.
Instructions
Pick a fun board to layout your design on.
Choose cheese with a variety of colors, textures and flavors.
Add in sweet and salty flavors from meats, fruits and nuts.
Serve with a low key cracker that will allow you to enjoy the fabulous flavors of food from your cheese board!