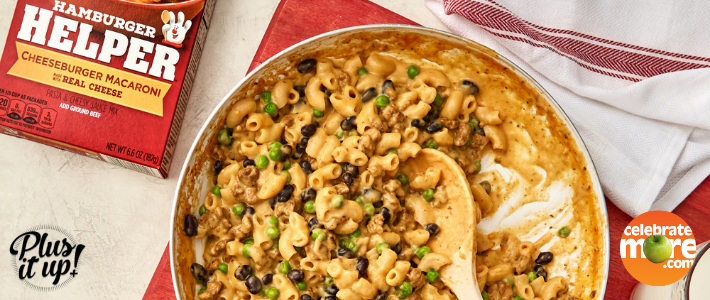 Hamburger Helper™ Cheeseburger Macaroni with Beans and Peas
Plus up classic Hamburger Helper™ Cheeseburger Macaroni with a boost of veggies to add variety and nutrition.
Ingredients
1/2 lb. Lean Ground Beef
1 1/2 C. Hot Water
2 C. Milk
1 Box (6.6 oz) Hamburger Helper™ Cheeseburger Macaroni
1 C. Canned Black Beans, drained, rinsed
1 C. Frozen Peas, thawed
Instructions
In 10-inch skillet, cook beef over medium-high heat 5 to 7 minutes, breaking up and stirring; drain.
Stir in hot water, milk, and sauce mix and uncooked pasta (from Hamburger Helper box). Heat to boiling.
Reduce heat. Cover; simmer 10 to 12 minutes, stirring occasionally, until pasta is tender. Stir in beans and peas. Cook uncovered 1 to 3 minutes or until heated through.
Notes
Tip 1: 
Cover and refrigerate any remaining black beans. Add to salads, soup, tacos or casseroles.
Tip 2: 
Add carrot and celery sticks and a cluster of grapes to round out the meal.
Tip 3: 
Did you know that rinsing and draining canned beans removes some of the sodium and excess starch? Simply open a can of beans, and pour contents into a colander. Rinse with cold water until liquid runs clear. Shake colander to remove excess water.