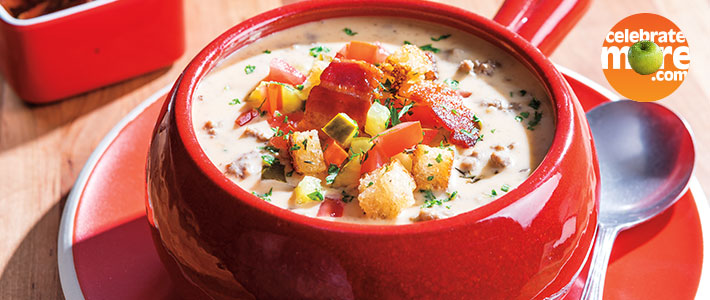 Ingredients
1 Lb. Ground Chuck
4 Slices Bacon, chopped
1 Small White Onion, chopped
2 Garlic Cloves, minced
2 Tbsp All-Purpose Flour
2 Cans (14 Oz. each) Chicken Broth
1 Cup Heavy Cream
1 tsp. Dry Mustard
1¼ Cups Shredded Mild Cheddar Cheese
½ Cup American Cheese Singles, chopped
1 Roma Tomato, chopped
1/3 Cup Seasoned Croutons
3 Tbsp Dill Pickles, chopped
2 Tbsp Cayenne Pepper Hot Sauce
Instructions
In large saucepot, cook ground chuck over medium-high heat 8 minutes or until browned, breaking up ground chuck with side of spoon; transfer to paper towel-lined plate. In same saucepot, cook bacon over medium heat 5 minutes or until crisp, stirring occasionally; with slotted spoon, transfer to separate paper towel-lined plate.
To drippings in saucepot, add onion; cook 4 minutes or until softened, stirring occasionally. Add garlic; cook 30 seconds, stirring occasionally. Add flour; cook 1 minute, whisking constantly. Add broth, cream and dry mustard; cook 2 minutes or until slightly thickened, whisking frequently. Add 1 cup Cheddar cheese, American cheese singles and ground chuck; reduce heat to medium-low and cook 10 minutes or until heated through and cheese melts. Makes about 6 cups.
Serve topped with bacon, tomato, croutons, pickles, remaining ¼ cup Cheddar cheese and hot sauce.
Percent Daily Values are based on a 2,000 calorie diet. Your daily values may be higher or lower depending on your calorie needs.