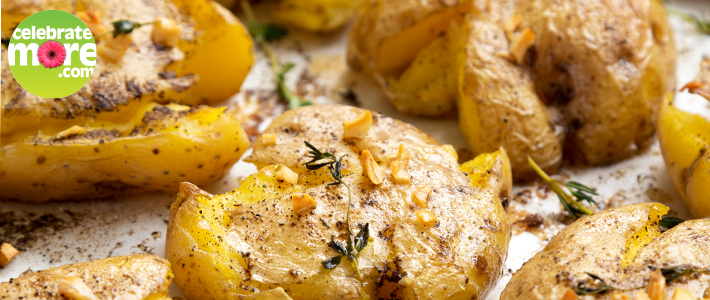 Cheesy Garlic Smashed Potatoes
Ingredients
1 lb. Baby Yukon Gold potatoes or Baby Reds
2 Tbsp. Melted Butter
2 Garlic Cloves, minced
1 tsp. Dried Thyme
Ground Black Pepper and Salt, to taste
1/2 C. Freshly Grated Parmesan
Instructions
Preheat oven to 425°F.
Boil the potatoes in a large pot over the stove until fork-tender. Strain potatoes and transfer to a sheet pan.
To the sheet pan, add melted butter, olive oil, minced garlic, dried thyme and salt and pepper. Mix well with potatoes until they are evenly coated.
Using a potato masher or the base of a glass jar, gently smash each potato until about 1/4 to 1/2 inch thick.
Top the smashed potatoes with shredded Parmesan cheese. Bake at 425°F for 20-25 minutes, or until golden brown and crispy.