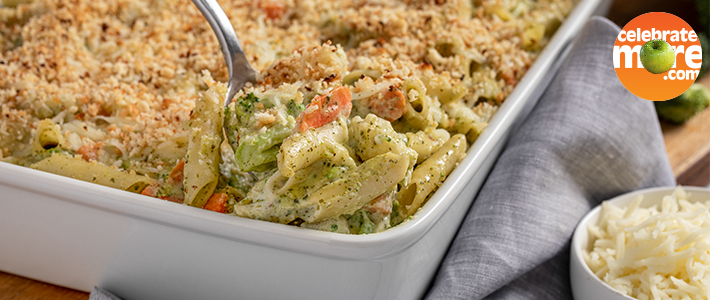 Ingredients
1 Tbsp. Olive Oil
1 Cup Food Club Panko Breadcrumbs
1 Box (16 Oz.) Food Club Mostaccioli
2 Packets (2.5 Oz.) Food Club Alfredo Sauce Mix
1 Cup Whole Milk
8 Oz. Prepared Pesto
4 Cups Food Club California Blend Frozen Vegetables, thawed
2 Cups Food Club Shredded Mozzarella Cheese, divided
1 Cup Food Club Shredded Parmesan Cheese, divided
Fresh Basil for garnish
Instructions
Combine olive oil and breadcrumbs in a small skillet over medium heat. Cook, stirring occasionally, until breadcrumbs are light golden brown, about 7 minutes. Remove from heat and set aside.
Preheat oven to 350°F and lightly coat a baking dish with nonstick spray. Bring a large pot of salted water to a boil over high heat. Cook pasta according to package directions. Reserve 1 cup of pasta cooking liquid before draining pasta. Return cooked pasta to pot.
In a small bowl whisk alfredo sauce mix, milk and reserved cooking water until smooth. Add alfredo mixture, pesto, frozen vegetables, 1 cup mozzarella cheese and 1/2 cup parmesan cheese to pasta. Stir to combine and transfer mixture to prepared baking dish. Top with remaining cheese and toasted breadcrumbs.
Cover tightly with aluminum foil and bake for 20 minutes. Remove foil and bake for an additional 15 minutes or until golden brown and bubbling. Garnish with fresh basil.