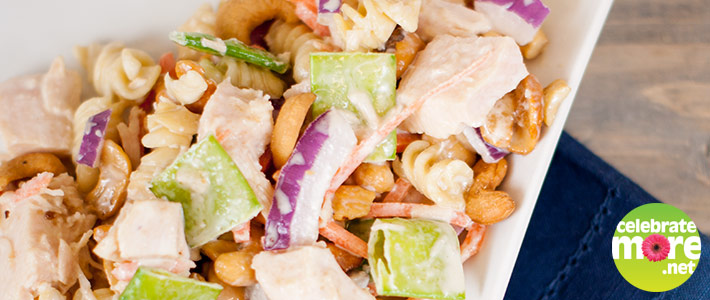 Chicken and Cashew Salad
Ingredients:
2 Cups Rotini Pasta, al dente
1 Cup Fresh Peapods, cut into 1 inch pieces
3-4 5 Oz. Cans Hormel Chunk Chicken, drained and flaked
1/2 Red Onion, chopped
1/2 Cup Shredded Carrots
1 Cup Salted Cashews
1 Cup Mayonnaise
1/2 Cup Packed Brown Sugar
Directions:
Cook rotini according to package directions, drain & cool.
In large bowl, toss together rotini, peas, carrots, onion, cashews and chicken.
In separate bowl, combine mayo and brown sugar; mix well.
Pour dressing into other bowl and stir to coat evenly.
Tip – If prepping ahead of time, wait to add cashews until ready to serve to keep them crunchy!
*Adapted From Hormel