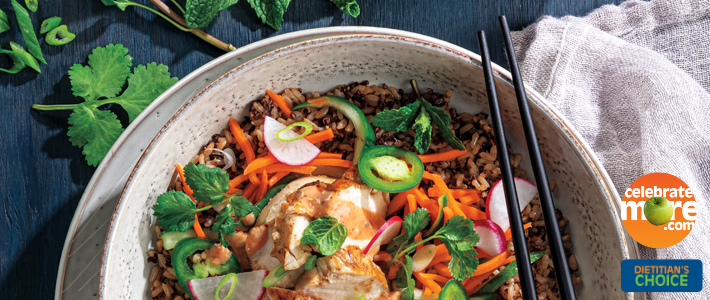 Ingredients
1/2 C. Chopped English Cucumber
1/2 C. Packaged Matchstick Carrots
1/2 Tbsp. Granulated Sugar
1/2 tsp. salt
2 Packages (8.8 ounces each) Food Club Ready to Serve Brown Rice & Quinoa
1/3 C. Creamy Cilantro Lime Dressing
2 Tbsp. Chili Garlic Sauce
1 Jalapeño Pepper, thinly sliced
2 C. Cooked Chicken Breast or Rotisserie Chicken Meat, thinly sliced
1/4 C. Radishes, thinly sliced
2 Green Onions, thinly sliced
1/4 C. Fresh Cilantro Sprigs and/or Mint Leaves
Instructions
Prepare pickled vegetables first by combing sugar, salt, cucumber, and carrots in a bowl. Let stand 15 minutes.
Prepare brown rice & quinoa as label directs. Set aside.
In small bowl, stir dressing and chili garlic sauce. Makes about ½ cup.
Divide brown rice & quinoa into 4 bowls; top with jalapeño, chicken, radishes, pickled cucumber mixture, dressing mixture, onions and cilantro. Garnish with cilantro or mint leaves as desired. Enjoy!