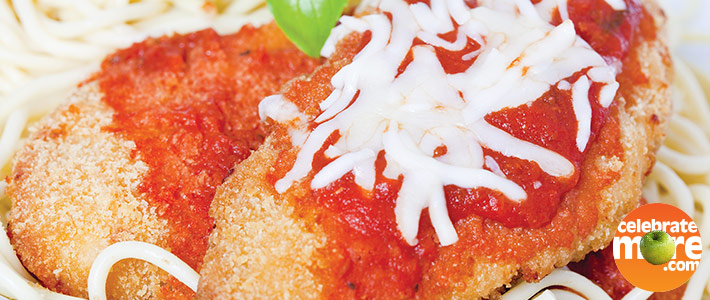 Ingredients
4 Chicken Breasts, pounded into 1/2 inch thickness
1 Egg
1/4 Cup Milk
1/2 Cup Breadcrumbs, dried, seasoned
1 Jar (24 oz.) Spaghetti Sauce
1 1/2 Cups Mozzarella Cheese, grated
2/3 Cup Parmesan Cheese, grated
1 Lb. Spaghetti, cooked per package directions
Instructions
Preheat oven to 350ºF.
Add breadcrumbs to wide, shallow bowl.
In separate wide, shallow bowl, whisk together egg and milk.
Coat one chicken breast in egg mixture first, then coat with breadcrumbs. Repeat with remaining chicken breasts. Place chicken breasts in single layer in baking dish.
Top each breast with a layer of each cheeses. Top with sauce, followed by another layer of each of the cheeses.
Bake for 30 minutes or until juices run clear and cheese starts to brown.
During last 15 minutes of baking, cook spaghetti noodles.
Serve chicken on top of hot, cooked spaghetti.