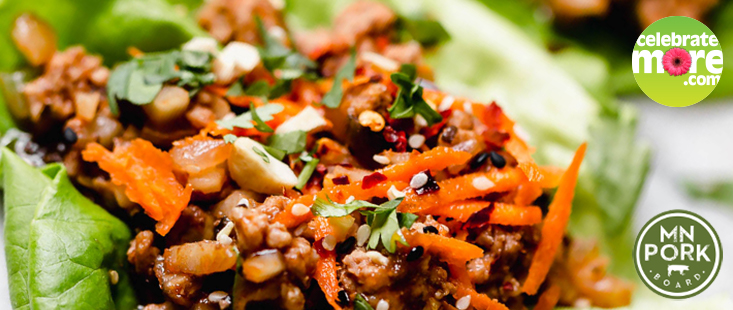 Chinese Pork Lettuce Wraps
Ingredients
For the Sauce:
1/3 C. Coconut Aminos
2 Tbsp. Tomato Paste
2 Tbsp. Rice Vinegar
1 Tbsp. Toasted Sesame Oil
2 Cloves Garlic, minced (may sub 1 teaspoon garlic powder)
1 tsp. Grated Ginger (may sub ½ teaspoon ground ginger)
1/4 tsp. Black Pepper
For the Pork:
1 lb. Ground Pork
2 Cups Diced Mushrooms
1/2 Medium Onion, diced
1 Can (8 oz) Water Chestnuts, diced
For serving and topping:
Lettuce Leaves (butter lettuce, bib or green lettuce)
Shredded Cabbage and Carrot Mix
Green Onion, sliced
Cilantro, chopped
Roasted Cashews, chopped
Sesame Seeds
Crushed Red Pepper
Lime Wedge
Instructions
In a small mason jar or bowl, combine the sauce ingredients. Whisk well with fork and set aside.
In a large pan over medium-high heat, add the ground pork, diced mushrooms, diced onion and a little salt and pepper. Cook for about 4-5 minutes stirring occasionally. Add water chestnuts and continue to cook until pork is cooked through.
Turn the heat down to medium-low and add the sauce to the pan plus 2 tablespoons additional water (add the water to the empty mason jar that contained the sauce, then shake up and pour in).
Bring to a low simmer and continue to cook for 5-7 minutes or until sauce is mostly absorbed. Stir occasionally.
Serve pork in lettuce leaves with desired toppings.
Ready in 30 minutes | Carb-friendly