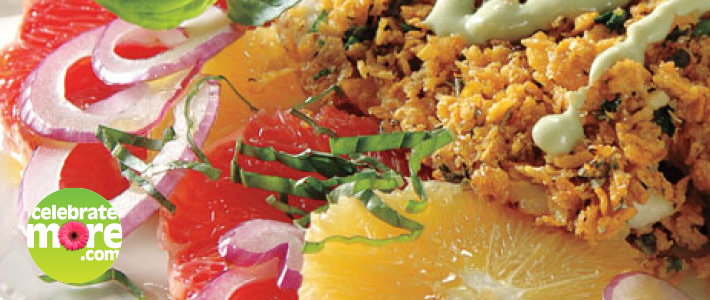 Ingredients
2 Large Pink or Ruby Red Grapefruits
2 Medium Oranges
1 Tbsp. Extra Virgin Olive Oil
4 tsp. Fresh Lime Juice
1/8 tsp. Salt
1/8 tsp. Ground Black Pepper
1/2 Medium Red Onion, thinly sliced (1/2 C.)
1 Tbsp. Thinly Sliced Fresh Basil Leaves
Instructions
Remove peel and white pith from grapefruits. Turn each grapefruit on its side and cut into 1/4-inch-thick slices. Repeat process with oranges.
In small bowl, whisk together oil, lime juice, salt and pepper.
To serve, alternately layer grapefruit and orange slices. Sprinkle red onion and basil over sliced fruit and drizzle with oil mixture.
Notes
Helpful Tips:
To peel grapefruits or oranges, slice off top and bottom ends to form 2 flat surfaces. Place 1 flat side down on cutting board. With small paring knife, slice down the sides following the natural curve of the fruit to remove skin and white pith completely.
In addition to citrus fruits being delicious and refreshing, they also are thought to protect against chronic diseases, cancer and may help to reverse cell damage. Citrus fruits are high in vitamin C, another powerful antioxidant, that helps wounds heal and helps hold blood vessels, tendons, ligaments and bone together.
This Citrus Salad will convert you to a grapefruit lover, if you aren't already. The citrusy burst of flavor in this salad will delight you! You should also try this Lemon-Thyme Grilled Pork Chops recipe for a tasty dinner this grilling season!
Shop from the comfort of your home! You can shop online at any of our proud family of stores for these recipe ingredients as well as the rest of your grocery list! We offer curbside pick up at all locations and delivery in select locations as well. Don't forget to connect your MORE Rewards account when you shop online for extra savings, digital coupons, and many other rewards too!
Shop Ingredients