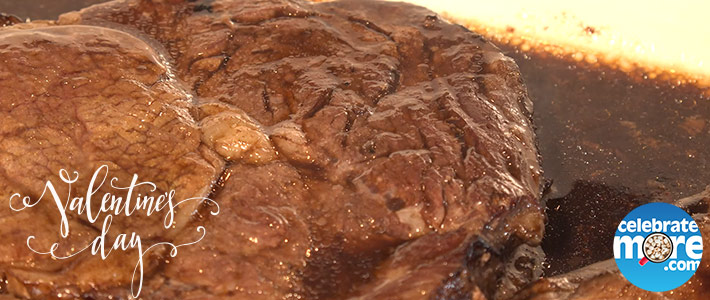 Valentine's Day is fast approaching and if you are like me and don't venture out to a local restaurant to celebrate I'm here to help you plan out your romantic meal at home step-by-step and it's easy to do. Don't worry I've got your back!
If you want to wow your significant other let's start in the Meat Department at any one of your local Coborn's stores. The days leading up to Valentine's Day just stop in and ask for the pre-cooked Prime Rib in the heart shaped containers. Don't forget to ask them about Johnnie's French Onion Aujus also. This pre-cooked Prime Rib is fully cooked so all you have to do is place it in a glass dish, pour a little of Johnnie's French Onion Aujus over the top of the steaks and then place them in your oven at 350 degrees for 15 to 20 minutes and you have the most succulent and tender steak imaginable.
If you want something different in the steak family we also have Ribeye's or Surf n Turf which is a New York Strip and Lobster. Don't forget to melt a little butter to drench your lobster in or a wedge of lemon to serve on the side, but you better hurry in because the heart shaped containers are only available while supplies last.
To add to that wonderful meal don't forget a little dessert and we now have a new item that I am so excited about. Stop in the Produce Department and ask for the strawberries dipped in chocolate placed in a heart shape container. I also can't forget that the strawberries are drizzled with white chocolate, which is my favorite flavor and it truly puts the whole dessert over the top.
Now Valentine's Day is not Valentine's without a little wine to serve with your meal and I have a perfect wine that pairs so well with steak or
seafood. It's called "Wente Southern Hills Cabernet Sauvignon". It is a full body red wine and has black cherry and plum flavors along with an undertone of coffee and spice.
Now last but not least don't forget to stop into our Floral Department for those beautiful roses to impress your friend. You put this all together and I know you will have a magical evening.
Since it is Valentine's Day, I want to show my appreciation for all of you! I am going to make it even easier for you to impress that special someone in your life with a little giveaway! I'm going to give one lucky winner a head start with planning that special meal. Just "Like" & "Share" my video and you will be entered into a drawing to win a FREE Prime Rib Dinner along with one dozen roses!!!
Enjoy and Happy Valentine's Day to all!!
Jayne
Coborn's Inc. Meat and Seafood Merchandiser