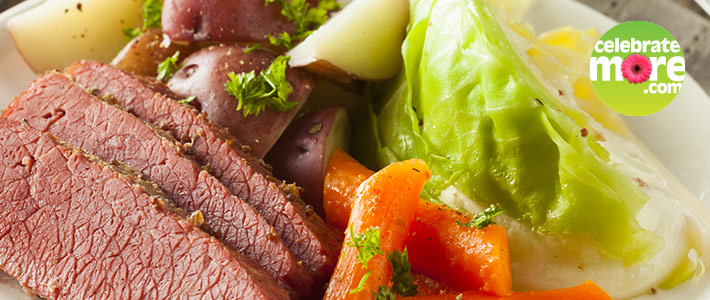 Ingredients
2 Whole Yellow Onions, peeled
6 Whole Cloves
3 1/2 Lbs. Food Club Corned Beef Brisket, preferably bottom round
3 Whole Carrots, peeled and cut into thirds
2 Bay Leaves
8 Whole Black Peppercorns
1 Medium Whole Head Green Cabbage
5 B Size Red or Gold Potatoes, peeled and halved
1 Dash Salt
1 Dash Black Pepper
Hot-Sweet Mustard, to taste (optional)
Instructions
Stud onions with cloves. Rinse corned beef in cold water to remove brine. Put beef in a large pot and add onions, carrots, bay leaves, peppercorns, and enough water to cover. Bring to a boil over high heat, cover, and reduce heat to low. Simmer for 2 hours, skimming occasionally.
Wash cabbage, remove core and any torn leaves, then cut into 6 wedges. Add cabbage and potatoes to beef, then cover and simmer until potatoes are tender, about 25 minutes.
Transfer beef to a cutting board and cover with a plate weighted with heavy cans (weighting makes meat easier to slice).
Transfer onions, carrots, cabbage, and potatoes to a platter. Remove cloves from onions. Strain cooking liquid, discarding bay leaves and peppercorns. Return liquid to pot and cook over high heat until reduced by one-third, 20 - 30 minutes. Season to taste with salt and pepper
Return vegetables to stock and heat through for about 5 minutes. Remove plate and cans from meat and cut across the grain, in 1/4 inch-thick slices. Arrange beef and vegetables on warmed platter. Moisten with stock. Serve with additional stock and hot mustard if you like.
Corned Beef & Cabbage in the quintessential St. Patrick's Day meal! Get your Irish on and celebrate with this tasty recipe! Need more corned beef in your life? This Reuben Toast recipe won't disappoint!
Shop from the comfort of your home! You can shop online at any of our proud family of stores for these recipe ingredients as well as the rest of your grocery list! We offer curbside pick up at all locations and delivery in select locations as well. Don't forget to connect your MORE Rewards account when you shop online for extra savings, digital coupons, and many other rewards too!
Shop Ingredients