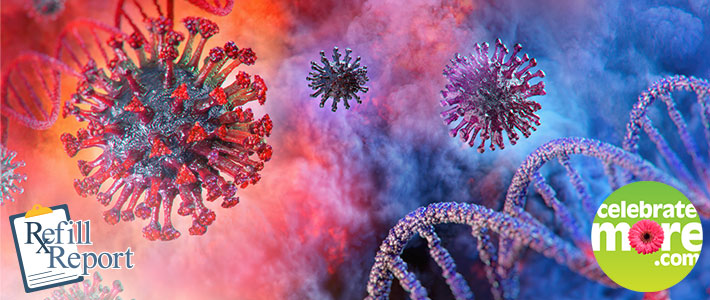 Coronavirus Disease (COVID-19) Updates
Greetings everyone, I hope you all are getting a chance to enjoy our unseasonably warm weather. This month we will have a guest blogger, one of our Pharmacy Students that is with us for a few weeks for a learning experience.
Hi, my name is Iryna. I am a pharmacy student at the University of Minnesota College of Pharmacy. I am currently on rotation at Coborn's Pharmacy in St. Cloud, MN. It is my pleasure to have the privilege to write a pharmacy blog entry for this month.
There are a lot of discussions about a new coronavirus outbreak. Some of you may have heard that the World Health Organization declared it a "public health emergency of international concern." It is important to understand how this virus can spread and what we can do to protect ourselves and people around us.
What is a novel coronavirus? The new coronavirus, also known as SARS-CoV-2, belongs to a group of coronaviruses. They are often seen in animals such as cattle, cats and bats. It is possible that the new coronavirus was spread from animals to humans. The person-to-person transmission has been reported. The virus originated in China and has now spread to other countries.
What is the current situation in the U.S.? As of March 5, 2020, the CDC reports 100 confirmed cases and 11 deaths related to COVID-19. Additionally, 49 patients who were repatriated from Wuhan, China and Diamond Princess Cruise Ship to the United States were tested positive.
How does coronavirus spread? Person-to-person spread is most likely when an infected person sneezes or coughs and another person breathes in the respiratory droplets. It is also possible to get this infection when a person touches the surface that has the virus on it and then touches their mouth, nose or eyes. People are contagious when they have the most symptoms. However, they may be contagious before symptoms even develop.
What are the symptoms? The symptoms of fever, cough and shortness of breath may develop from 2 to 14 days after the exposure. The symptoms may vary from mild and moderate to severe.
What are the prevention measures? Multiple companies are working on the development of a vaccine for coronavirus disease (COVID19), however there is no vaccine currently available. To prevent being infected:
Avoid close contact with sick people
Stay home when you are sick
Do not touch your mouth, nose, and eyes
Cover your cough and sneezes
Wash your hands often with soap and water for at least 20 seconds. An alcohol-based sanitizer with at least 60% alcohol may be used as well.
Clean and disinfect surfaces that are often touched
Wear a face mask if you are sick or care for a sick person
Stay up-to-date on your immunizations
Practice healthy lifestyle habits
How is coronavirus disease treated? There is no specific medication to treat the actual coronavirus. Current treatment includes supportive care to relieve symptoms and to support organ functions.
What should I do if I think I may be infected? To help prevent the spread of coronavirus, follow these steps:
Notify your provider immediately
Stay at home unless you are going to get medical care and avoid any public places
Stay away from other people and animals in your home (separate room and bathroom are preferred)
Do not share household items such as glasses, dishes, and utensils with others
Wear a facemask if available
Clean your hands often
Cover your mouth and nose if you cough or sneeze
Monitor your symptoms
Clean surfaces that are often touched such as doorknobs, tabletops, and phones, etc.
May I travel? Check travel advisories prior to traveling internationally. You may also want to discuss your travel plans with your provider. As of March 5th, travel advisories are issued for China, Iran, Italy, South Korea, and Japan. The updates can be found on the CDC website.
What should I buy to prepare for a potential outbreak? If an outbreak occurs, it will be important to avoid crowded places. Having some of the following items at home would be helpful:
A supply of nonperishable food items (chicken or vegetable broth, crackers, and hydrating drinks, etc.)
Essential household items (laundry detergent, cleaning wipes, and hand soap etc.)
A supply of essential medications (pain relievers, fever reducers, decongestants, cough and cold medicines, etc.)
Should I wear a face mask? The CDC currently does not recommend wearing a face mask to prevent getting sick. This is because common surgical masks are not tight enough to prevent you from breathing in the droplets. However, it is recommended for a sick person to wear a mask which blocks the droplets from spreading. There are specialized masks, N95 masks, that filter 95% of airborne particles and are more effective compared to common surgical masks. However, they need to be fitted to work properly.
If you have any additional questions or concerns, please talk to any of our friendly Pharmacists.
Thanks Iryna! Great information.
Jason
Pharmacy Clinical Program Manager