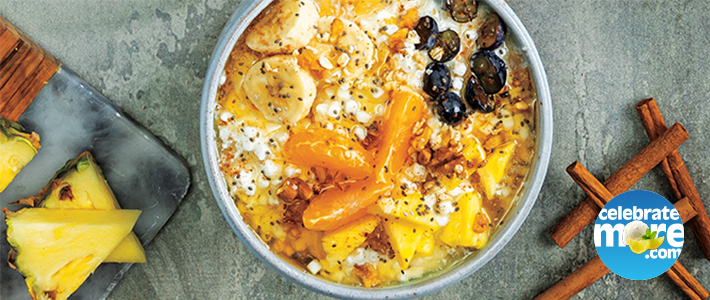 Cottage Cheese Breakfast Bowl
Ingredients
¼ Cup Walnuts, chopped
¼ Cup Old-Fashioned Rolled Oats
2 Cups Low-Fat Cottage Cheese
1 Clementine, peeled and separated
1 Ripe Banana, peeled and thinly sliced crosswise
½ Cup Fresh Pineapple, chopped
½ Cup Fresh Blueberries, halved lengthwise
2 Tbsp. Honey
1 tsp Chia Seeds
½ tsp Ground Cinnamon
Instructions
In large skillet, toast walnuts and oats over medium-high heat 4 minutes or until lightly browned and fragrant, stirring frequently; transfer to plate to cool.
Divide cottage cheese into 4 bowls; top with clementine, banana, pineapple and blueberries. Drizzle bowls with honey; sprinkle with chia seeds, cinnamon and walnut mixture.
Percent Daily Values are based on a 2,000 calorie diet. Your daily values may be higher or lower depending on your calorie needs.