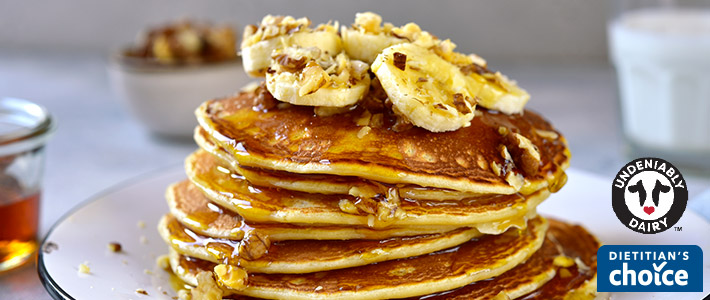 Ingredients
8 oz. Cottage Cheese
2 Cups Whole Wheat White Flour
1 1/2 Tbsp. Brown Sugar (dark or light)
1 1/2 tsp. Baking Powder
1 tsp. Baking Soda
1 tsp. Salt
1 Cup Milk
2 Eggs
1 Tbsp. Vanilla Paste (or 1 1/2 tsp of Vanilla Extract)
1 tsp. Ground Nutmeg
1/2 tsp. Ground Ginger
Non-Stick Spray
Instructions
Mix together all dry pancake ingredients in one bowl and mix together all wet pancake ingredients in another bowl. Incorporate the wet into the dry and mix thoroughly, let it rest for 10 minutes.
Spray pan with non-stick spray. On medium heat ladle 4 ounces (approximately) of batter and flip when you see the bubbles on the surface, about 3-4 minutes. Continue until all of the batter is used.
Serve with banana slices, and syrup of choice.