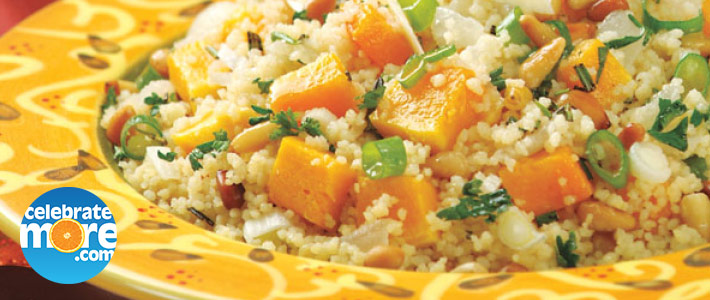 Couscous with Butternut Squash & Pine Nuts
Prep: 25 minutes
Cook: 20 minutes • Serves: 4
1
tablespoon butter
1
teaspoon olive oil
1
cup diced yellow onion
1
teaspoon minced garlic
1-1/2
cups peeled and diced butternut squash
2
cups less-sodium chicken broth
1
box (10 ounces) plain couscous
1/2
cup sliced green onions
1/4
cup toasted pine nuts
1
tablespoon chopped fresh parsley leaves
1
teaspoon finely chopped fresh rosemary leaves
1/4
teaspoon kosher salt
1/4
teaspoon ground black pepper
1/4
cup shaved Parmesan cheese (optional)
1.In large saucepot, heat butter and oil over medium heat. Add onion and garlic, and cook 4 to 5 minutes or until onion is soft. Reduce heat to medium-low. Add squash and partially cover pot. Cook 8 to 10 minutes or until squash is just tender, stirring occasionally.

2.Add broth and bring to a boil. Stir in couscous, green onions, pine nuts, parsley and rosemary. Remove from heat; cover and let stand 7 to 8 minutes or until couscous is tender.

3.Fluff couscous with fork, and stir in salt and pepper. Serve immediately topped with cheese curls, if desired.


Approximate nutritional values per serving: 

361 Calories, 10g Fat (3g Saturated), 8mg Cholesterol,
396mg Sodium, 60g Carbohydrates, 4g Fiber, 13g Protein