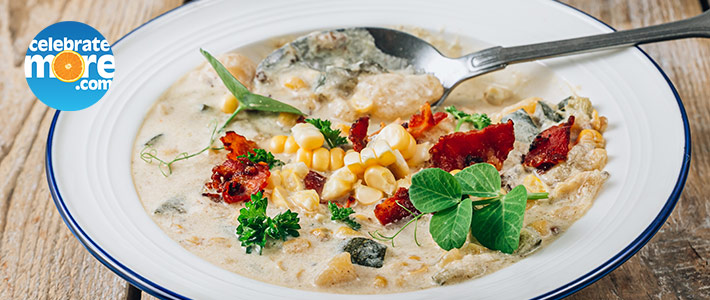 Creamy Corn Zucchini and Bacon Chowder
Ingredients
5 Thick Strips Bacon, chopped
2 Tbsp. Butter
1 C. Chopped Onion
2 C. Chopped Medium Zucchini or Yellow Squash
5 C. Yellow Corn Kernels
3 Minced Cloves Garlic
2 Tbsp. Fresh Thyme (or 1 tsp. of dried thyme)
1/2 tsp. Smoked Paprika
Red Pepper Flakes, to taste
2 C. Chopped Potatoes
Kosher Salt and Black Pepper, to taste
Broth
4 C. Low-Sodium Chicken Broth
1 C. Whole Milk or Heavy Cream
1 Tbsp. Honey
1 C. Shredded Gouda Cheese
1/2 C. Shredded Cheddar Cheese
2 Tbsp. Chopped Chives
Instructions
Start by cooking bacon in a large pot over medium heat until crispy. Reserve the bacon for later. If there is too much bacon grease, remove all but 1 tablespoon.
Next, add butter, onion, and zucchini to the pot and cook for 5 minutes until fragrant. Then add corn, garlic, thyme, paprika, and red pepper flakes and cook for 2 more minutes. Add potatoes and broth, cover, and bring to a boil. Let it simmer for 10-15 minutes until the potatoes are soft.
Transfer half of the chowder to a blender and blend until smooth, then return it to the pot. Stir in cream, honey, and both cheeses and cook for 5 minutes until the cheese melts and the chowder thickens. Add chives and remove from heat.
Finally, serve the chowder in bowls and top with bacon, cheese, and fresh herbs such as basil, thyme, and oregano. Enjoy!
This creamy corn zucchini and bacon chowder is a comforting bowl of goodness swimming in a velvety, flavorful broth. Make the perfect appetizer to go along with this chowder and try these Zucchini Cakes as well!
Shop from the comfort of your home! You can shop online at any of our proud family of stores for these recipe ingredients as well as the rest of your grocery list! We offer curbside pick up at all locations and delivery in select locations as well. Don't forget to connect your MORE Rewards account when you shop online for extra savings, digital coupons, and many other rewards too!
Shop Ingredients