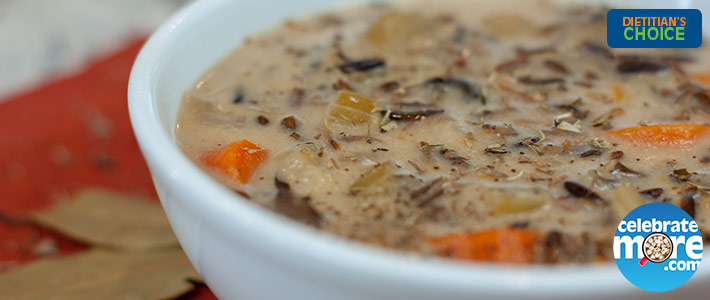 Creamy Mushroom Wild Rice Soup – Pressure Cooker
Ingredients
For the Pressure Cooker
5 Medium Carrots, chopped
5 Stalks of Celery, chopped
1/2 Onion, chopped
3 Garlic Cloves, minced
1 Cup Wild Rice, dry
8 Oz. Fresh Mushrooms, sliced
4 Cups No Salt Added Vegetable or Chicken Broth
1 tsp. Mrs. Dash Garlic and Herb seasoning
1/2 tsp. Dried Thyme
Salt and Pepper to Taste
For the Stove-top
6 Tbsp Butter Made With Olive Oil
1/2 Cup Whole Wheat White Flour
1 1/2 Cups Skim Milk
Instructions
Put all of the ingredients in the top list into the pressure cooker and cover with the lid. Set pressure cooker on manual, high pressure for 45 minutes. Once the time is up, do a quick release of the steam using the valve on the top. Be careful, as steam is very hot.
When the soup is done, melt the butter in a saucepan on the stove top. Whisk in the flour. Let the mixture cook for a minute or two to remove the floury taste, while stirring constantly. Whisk in the milk slowly, pouring just a small amount in at at time, until you have a smooth, thickened sauce. Add a pinch of salt to taste.
Pour the creamy sauce into the soup in the pressure cooker. Stir well and serve.
Notes
Recipe adapted from Pinch of Yum
Nutrition per 1 Cup Serving Calories: 130, total fat 3.5g, sat fat 1 g, trans fat 0g, cholesterol 5mg, sodium 160mg, total carbohydrate 20g, fiber 3g, sugars 4g, protein 5g, Vit A 90%DV, Vit C 6%DV, Calcium 10%DV, Iron 6%