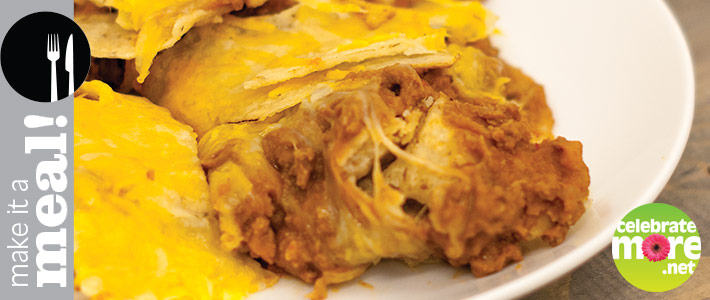 Crunchy Enchilada Casserole
Ingredients:
1 Lb. Ground Beef
16 Oz. Can Refried Beans
8 Oz. Bottle Taco Sauce
1 Bag Tortilla Chips
2 Cups Shredded Mexican Style or Cheddar Cheese
Directions:
Preheat oven to 375ºF
Brown ground beef in large skillet; drain. Stir in beans and taco sauce; mix well.
Place generous layer of tortilla chips into ungreased baking dish. Top with meat mixture; cover and bake for 25 min.
Remove from oven, top with another layer of chips, and cover with cheese. Bake additional 10 minutes or until cheese is melted.
Serve hot.