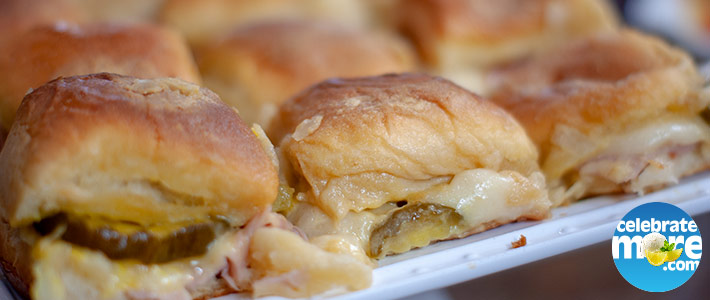 Ingredients
2 Packages Hawaiian Sweet Rolls
1-2 Lbs. Thinly Sliced Deli Ham
9 Slices Swiss Cheese
Dill or Bread and Butter Pickle Slices
Topping
1/2 Cup Butter, cubed
2 Tbsp Onion, finely chopped
2 Tbsp Dijon Mustard
Instructions
Preheat oven to 350ºF. Without separating rolls, cut each package in half horizontally and place bottom halves in greased 13x9 baking pan.
Add a generous layer of ham followed by cheese and pickles; cover with top half of rolls.
In microwave, melt butter. Stir in onion and mustard. Spread evenly over top of rolls.
Bake, covered, for 10 minutes. Uncover and bake additional 5-10 minutes until golden brown and heated through.