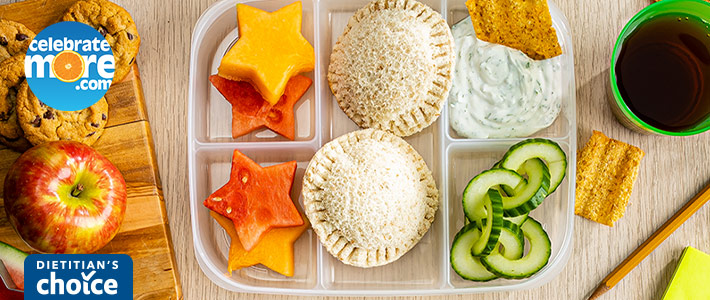 Ingredients
64 Sun Chips
16 Slices Honey Wheat Bread
2 Tbsp. Peanut Butter
2 Tbsp. Strawberry Jam
1 Small Avocado, peeled, pitted and chopped
1/2 tsp. Fresh Lime Juice
1/4 tsp. Salt
1/8 tsp. Ground Black Pepper
4 Slices Cheddar Cheese, quartered
4 Slices Lower Sodium Turkey, quartered
2 Round Slices Cantaloupe, seeds removed (about 6-inch diameter x 1/2-inch thick)
1 Round Slice Seedless Watermelon (about 8 1/2-inch diameter x 1/2-inch thick)
1 English Cucumber, sliced 1/2-inch thick crosswise (about 24 slices)
4 (4 Compartment) Bento-Style Lunch Boxes
Yogurt Dip
1/2 C. Plain Nonfat Greek Yogurt
1 Tbsp. Chopped Fresh Dill
1/2 Tbsp. Fresh Lemon Juice
1/2 tsp. Lemon Zest
Instructions
Divide Sun Chips into 4 zip-top plastic sandwich bags; seal bags, pressing out excess air.
With 3-inch cutter (or jar with 3-inch opening), cut circles from center of each bread slice. Spread peanut butter in center of 4 of bread circles; spread jam in center of 4 bread circles. Top peanut butter bread slices with jam bread slices, jam side down; press down on edges of sandwiches with fork to seal. Makes 4 peanut butter & jelly sandwiches.
In small bowl, mash avocado, lime juice, 1/8 teaspoon salt and pepper. Spread avocado mixture in center of 4 bread circles; top with cheese, turkey and remaining 4 bread circles. Press down on edges of sandwiches with fork to seal. Makes 4 turkey sandwiches.
With 2-inch star cookie cutter, cut out 8 stars from cantaloupe and 8 stars from watermelon.
With 1/4 teaspoon measuring spoon, completely scoop out seeds of cucumber slices; with sharp paring knife, cut a slit down side of each slice. Slightly open slit on 1 cucumber slice and "link" around uncut side of second cucumber; continue process to link 6 cucumber slices together to create a "chain." Makes 4 cucumber chains.
Yogurt Dip
In medium bowl, whisk yogurt, dill, lemon juice, lemon zest and remaining 1/8 teaspoon salt. Makes about 1/2 cup.
Assemble Lunch Boxes
Fill lunch boxes by dividing 1 of each type of sandwich into 1 compartment, melon stars into 1 compartment, yogurt dip into 1 compartment and cucumber chains into remaining compartment; cover with lids and refrigerate up to 2 days.
Serve each lunch box with 1 bag chips.
Notes
Dietitian Tip:
If you don't have bento boxes, use whatever you have on hand! Reusable or plastic containers and baggies work perfectly.
Approximate nutritional values per serving (1 lunch box, 1 bag chips ): 588 Calories, 27g Fat, 7g Saturated Fat, 27mg Cholesterol, 663mg Sodium, 70g Carbohydrates, 9g Fiber, 21g Sugars, 9g Added Sugars, 21g Protein
Meal prep for kids can be both fun and nutritious with this Cut It Out Lunch Box! Change it up with seasonal produce, too! Find more tasty kids recipes and get your kids more involved in the kitchen by checking out our Kids Cook At Home classes! These FREE classes are provided by our dietitian team to help you and your kids have fun while making kid friendly and nutritious recipes.
Shop from the comfort of your home! You can shop online at any of our proud family of stores for these recipe ingredients as well as the rest of your grocery list! We offer curbside pick up at all locations and delivery in select locations as well. Don't forget to connect your MORE Rewards account when you shop online for extra savings, digital coupons, and many other rewards too!
Shop Ingredients