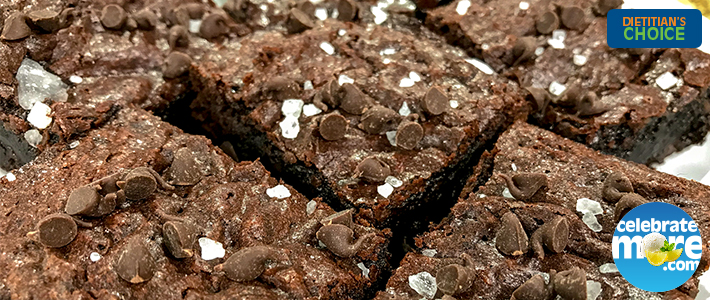 Dark Chocolate Sea Salt Brownies
Ingredients
¾ cup black beans, rinsed and drained
½ cup light extra-virgin olive oil
2 eggs
¼ unsweetened dark cocoa powder
2/3 cup sugar
1 tsp instant coffee
1 tsp vanilla
½ cup mini chocolate chips, divided
1/3 whole wheat white flour
½ tsp baking powder
½ tsp salt
Pinch of flaky sea salt for topping
Instructions
Preheat oven to 350ºF. Grease 9x9 baking pan.
In a blender, puree beans with oil.
Add eggs, cocoa, sugar, coffee, vanilla and half chocolate chips (melted) to the blender. Blend on medium-high until smooth.
In a small bowl, whisk together flour, baking powder, and salt.
Add dry ingredients to blender and pulse until just incorporated.
Stir in remaining chocolate chips; Pour into prepared pan.
Bake until surface looks somewhat matte around the edges and still a bit shiny in middle, about 20 minutes. Let cool at least 15 minutes before cutting and removing from pan.
Top with a sprinkle of flaky sea salt.
Percent Daily Values are based on a 2,000 calorie diet. Your daily values may be higher or lower depending on your calorie needs.