A New Perspective:
A Unique Shopping Experience In The New Generation Coborn's Marketplace Stores
Hello all! My name is Jennie Xiong and I am a dietetic intern through the St. Cloud Hospital Dietetic Internship. I have been working with various Coborn's dietitians (who are all awesome by the way) during my community rotation to learn more about what their roles are as Coborn's Supermarket Dietitians. Food and health is such a hot topic nowadays and continues to be an important aspect in our everyday life, which is why it is important for us to build a healthy relationship with food!
Many of us are guilty of running into a grocery store and grabbing only what we need and running back out. We all live such a fast-paced lifestyle that we often forget to appreciate our relationship with food. In today's world, grocery stores like Coborn's are reinventing themselves to give customers a better and more interactive experience while they do their shopping.
I don't think I've ever been so excited about grocery shopping until I was given a store tour during my rotation. Yes, a store tour, that's a thing! I was given a store tour by one of the Coborn's dietitians, Amy, and believe it or not, my jaw dropped. The last time I was in a Coborn's grocery store, I was in it for less than 5 minutes, not giving much thought about my grocery shopping experience at all. However, this time around, walking around the store and seeing what they have to offer sparked a lot of excitement within me. I was tempted to go grab a grocery cart and start shopping at that very moment!
Grocery shopping is a great way to build your relationship with food. Now some of you may think that sounds silly but having a positive relationship with where and how you get your food will give you a better outlook on food and your overall health. To sum up my experience, I have some of my biggest "AHA" moments during my tour at Coborn's listed below, which illustrates the new generation of Coborn's Marketplace!
Chop Shoppe
On the run? No problem! The Chop Shoppe at Coborn's provides freshly cut produce just for you! Did you know that you can also choose a whole item in the produce section (such as a mango) and bring it to the Chop Shoppe where they can cut it however you want? The Chop Shoppe also makes their own juices using only their fresh fruits and vegetables. Try the Green Ninja, it's delicious!
Better for You Check Out Lane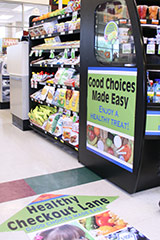 Look out for the "Better For you Check Lane" when checking out at Coborn's! This checkout lane includes dietitian's choice products that are beneficial for your health, so skip the sugary candy bars and grab a KIND bar instead! Coborn's is one of the few grocery stores in the country that has implemented this idea into their grocery stores to make healthy food more accessible to their customers!
The Misfits
Coborn's partners with Misfits which aims to help shoppers save money and reduce food waste! The Misfits provide Coborn's with "ugly" fruits and vegetables to be sold at a lower price. Instead of having them thrown away, shoppers can purchase these products. The best part about this? These produce items have the same nutritional benefits as the ones you see on the shelves! Go green!
Flavor Seal Packaging
When cooking, you only want the freshest food for you and your family, is that right? Well look no further. Coborn's provides flavor seal packaging on select brands of meat which preserves freshness and flavor. Additionally, there are no meat drippings, which is a plus! Doesn't get better than that!
Free produce for kids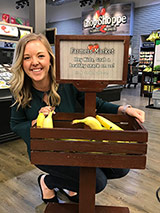 One of the best aspects about Coborn's is that they offer fresh fruits for the little ones! And guess what? It's free! This is a great way to get kids to eat their fruits, so take your kids to the produce section at Coborn's to check it out!
While I've been with Coborn's, I also had the opportunity to test out recipes with the dietitian team! We worked together to increase the fiber content in these Zucchini Carrot Mini Muffins by adding in ground flaxseed into the original recipe. This recipe is very easy to follow and perfect for everyone, especially children! Give it a try and let us know what you think!
Jennie Xiong, dietetic intern