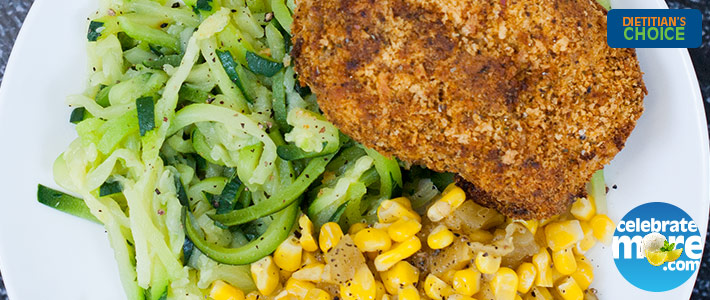 Dijon Crusted Chicken Breasts
Ingredients
1/3 cup whole wheat dry bread crumbs
1 tablespoon grated Parmesan cheese
1 teaspoon Italian seasoning
1/2 teaspoon dried thyme
1/4 teaspoon pepper
4 boneless skinless chicken breast halves (4 ounces each)
2 tablespoons Dijon mustard
1 teaspoon olive oil
Instructions
Place the first five ingredients in a shallow bowl.
Brush chicken with mustard; roll in crumb mixture.
Bake the chicken at 350 Degrees Fahrenheit for approx. 25 minutes and until the internal temperature 165°.
Notes
Dietitian's Tips: Serve on a bed of Zucchini Noodles with a side of your favorite fruit or vegetables!

Shop Ingredients