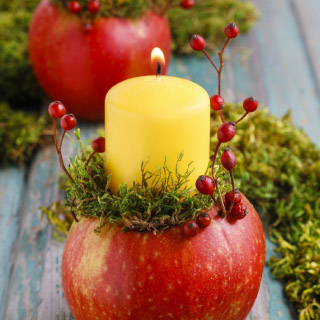 [email_link]
DIY Fall Decor Apple Votive Holder
Position a candleholder at each place setting or create a twinkling table runner for your autumn get-togethers.
1. You'll need:
Apples
Votive candles
Artificial berry spray
Craft knife
Bamboo skewer or thin wooden craft stick
Spoon
Preserved Spanish moss (Not shown)

2. Place a votive candle on top of an apple and use a craft knife to trace a shallow cut around the base of the candle into the apple.

3. Cut deeper (approximately one inch) into the apple using the shallow cut as a guideline.

4. Use a spoon to scoop out the apple flesh, creating space for the votive candle.

5. Place the candle in the apple.

6. Use a bamboo skewer or wooden craft stick to insert small pieces of preserved Spanish moss into the gap between the candle and the apple.

7. Push the moss securely into the gap.

8. Use the skewer or craft stick to push small pieces of the artificial berry spray into the moss.