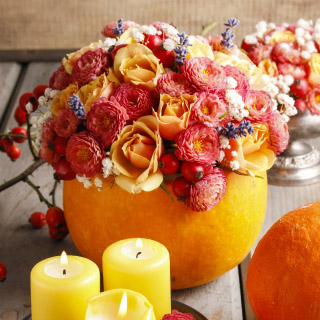 [email_link]
DIY Fall Decor Pumpkin Flower Arrangement
This seasonal display is delightful on its own or combined with votive candles and additional pumpkins.
You'll need:
Dried lavender stems
Fresh flowers (such as miniature roses and strawflowers) in seasonal hues
Small pumpkin
Block of floral foam
Dried or artificial berry clusters
Knife
Scissors
Not shown: Fork, plastic wrap, water
1. Use a knife to slice approximately two or three inches off of the top of a small pumpkin.

2. Use a fork to scoop out the pumpkin flesh and seeds.

3. Line the pumpkin with plastic wrap and use scissors to trim away the excess plastic wrap around the opening.

4. After thoroughly soaking a block of floral foam with water, place the foam block in the pumpkin.

5. Use scissors to cut the fresh flower stems at an angle, trimming them to a length that's slightly longer than the height of the pumpkin.

6. Insert the flowers into the floral foam.

7. Use the dried or artificial berry clusters to fill in the spaces between the flowers.

8. Trim the dried lavender stems and use them as accents between the fresh flowers and the berries.

9. Enjoy the colors of the season!