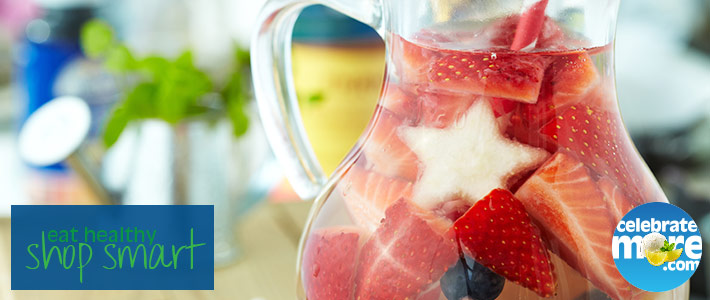 Summertime is here in the beautiful Midwest which means backyard barbecues, days on the lake, and plenty of family get togethers. Navigating the food selection can be a big challenge, but navigating the beverages can be a whole separate challenge in itself! With so many great summertime beverages like ice cold beer, fruity mixed drinks and sweet lemonades, it's even more important to be aware of what those tasty drinks contain. Here's a quick run down on some of those favorite drinks along with some healthier options to try out this summer!
Alcoholic Beverages
There's something pretty refreshing about a cold adult beverage on a hot day… keep in mind that some are better than others though! Make sure you're always drinking responsibly and know the recommended amount of alcoholic beverages. The recommendations for 'moderate' intake is 1 drink per day for women, and up to 2 drinks per day for men, 21 years of age or older. 1 drink is considered 12 ounces of beer, 5 ounces of wine and 1.5 ounces of spirits.
Wine
Almost every 5 ounce glass of wine has about 100 calories in it, so it's best to watch your portion size with these. Due to their fermentation process with grapes, and other sweet fruits, they do pack a bit more of a calorie punch.
Beer
Stay away from heavy, dark beers such as porters and stouts. Even craft beer is going to be denser, packing in the calories. Try to choose light beers such as American lagers and pilsners that are lighter in color, body and calories.
Mixed Drinks
These are the trickiest of all to navigate due to the amount of ingredients, and many summery beverages call for a simple syrup as part of the recipe. All light spirits are going to be lower in calories compared to dark colored hard alcohol.
Vodka is a great option because it is so versatile. It can be mixed with 100% juice, diet soda, sparkling water or water with a twist of lime or lemon.
Tequila actually comes from an agave plant which can have some potential health benefits. I personally, love margaritas, however they are high in added sugars and potentially sodium if you salt the rim. Try mixing tequila with 100% orange juice and a splash of grenadine for a beautiful tequila sunrise! Or try it with a reduced-sugar, or light lemonade for an invigorating drink out on the boat!
Gin has a very unique, acquired flavor, however can be extremely refreshing. Try a lime-twist gin mixed with diet lemon-lime soda for a new drink packed with flavor!
Whisky or Rum with a diet soda, sparkling water, water or over ice can decrease the added sugar and calories if you enjoy drinking dark spirits. Dark spirits are naturally more calorie dense, causing an even greater energy intake when mixed with full sugar sodas.
Non-Alcoholic
There are plenty of ways to cool off and enjoy a beverage without consuming alcohol. This can be anything from a glass of homemade lemonade, some kombucha, or one of our "Mocktail" Recipes, all of which can be incorporated into a well-balanced diet. We have several non-alcoholic drink recipes that would be a great addition to any party, plus they're great for both kids and adults! Try one of these tasty Dietitian's Choice recipes this summer:
When looking for healthier beverage options in the grocery store, be sure to look for the Dietitian's Choice logo to help you identify the better-for-you options. Some of my summertime favorites include:
sugar free iced teas
green tea
sparkling water
light colored, diet sodas
sparkling waters
water enhancers
Many of these come in a variety of flavors making it easy to find one you'll enjoy. The water enhancers are one of my personal favorites because they are almost calorie free, have no sugar and taste awesome! They also store nicely, are individually wrapped so everyone can have their own flavor and require nothing other than water to mix and enjoy!
Most importantly of all, don't forget to stay hydrated and rotate water into the mix of your fun summer activities. Especially when it's hot out! The best way to keep hydrated is with regular old water.
Enjoy these short summer months & happy adventuring!
Becca, RD, LD