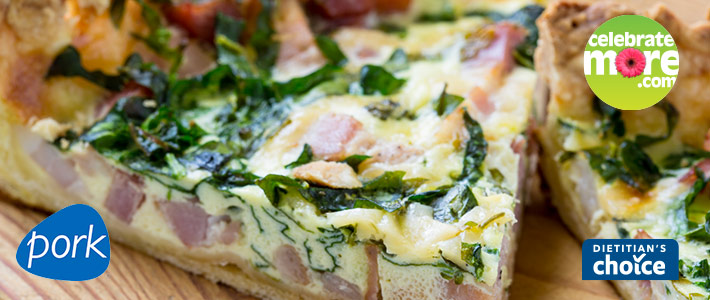 Ingredients
6 Oz. Ham
3 Tbsp Whole Wheat Bread Crumbs
1 tsp. Soybean Oil
1/2 Cup Onions, chopped
2 Roma Tomatoes (medium, juiced and chopped, about 3/4 cup)
1 Cup Spinach
3.5 Oz Roasted Red Peppers, drained and chopped
1 Tbsp Corn Starch
1/4 tsp Salt
1/8 tsp. Cayenne
1 Cup Nonfat Half-and-Half
4 eggs
1 Cup Parmesan Cheese
Instructions
Preheat the oven to 350°F. Spray a 9-inch glass pie pan with nonstick spray. Dust the bottom and sides of the pan with the breadcrumbs and set aside.
Heat the oil in a large nonstick skillet over medium heat. Add the onion; sauté 1 minute. Add the tomatoes and spinach and sauté until beginning to soften, about 3 to 4 minutes. Remove from the heat and stir in the ham and bell pepper. Spoon into the bottom of the prepared pan.
Place the cornstarch, salt and cayenne in a medium bowl; slowly whisk in the half and half to blend. Whisk in the eggs and pour the mixture into the pan. Top with the parmesan.
Bake for 40 to 45 minutes until puffed and set. Let the quiche rest for 5 minutes before serving. Sprinkle chopped parsley on top, if desired. Cut in wedges and serve.
Notes
Recipe created in partnership with the National Pork Board.