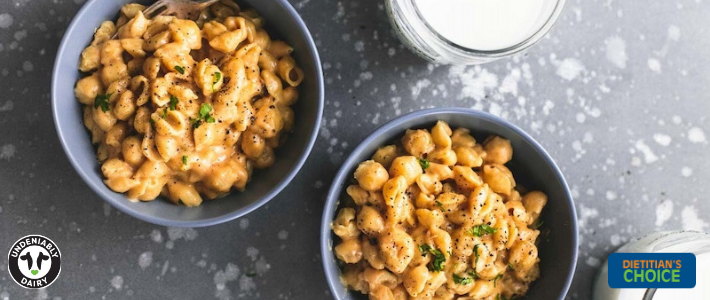 Easy Creamy Macaroni and Cheese
Ingredients
12 oz. Small Pasta Noodles, such as elbows or shells
2 tsp. Olive Oil
3 Tbsp. Unsalted Butter
3 Tbsp Flour
2 1/2 Cups Low-Fat Milk
1/2 tsp. Garlic Powder
2 Cups Freshly Grated Sharp Cheddar Cheese
Salt and Pepper to Taste
Instructions
Add pasta to a pot of boiling salted water, boil till tender, then drain and rinse with cold water. Toss pasta with 2 teaspoons oil and set aside.
In a large skillet, melt butter over medium-high heat. Stir in flour. Very gradually whisk in 2 cups milk until smooth and creamy. Stir in garlic powder.
Stir in cheese until completely melted and fully incorporated. Add a little milk if needed (up to 1/2 cup) to thin the sauce if it is too thick for your liking. Season with salt and pepper to taste.
Stir in cooked pasta, garnish with cracked black pepper and chopped parsley, if desired, and serve alongside a glass of real milk.