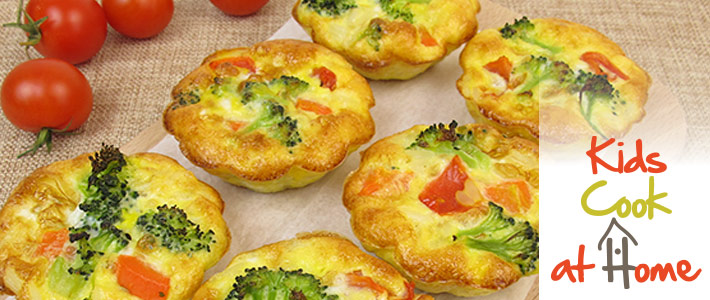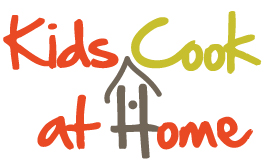 Recipe Difficulty: Medium
Oven: Yes
Stovetop: No
Knife: Yes
Supplies:
- Cutting board
- Knife, Fork
- Muffin Tin
- Large Liquid Measuring cup
- Measuring Cups
- Measuring Spoons 
Ingredients
Non-Stick Spray
6 Eggs
1/3 Cup Milk
Salt and Pepper, to taste
3/4 Cup of Hashbrowns, frozen or thawed
1 1/2 Cup Chopped Veggies (Peppers, broccoli, cauliflower, onion, olives, spinach, etc.)
3 Slices of Deli Meat (Ham or Turkey), chopped
1/3 Cup Shredded Cheese
Instructions
Preheat the oven to 375 degrees F and as always, start by washing your hands!
Spray your muffin tin (only 6 spots) with non-stick cooking spray.
Crack 6 Eggs into your medium liquid measuring cup. Set aside and wash your hands.
Carefully prepare your vegetables by chopping them into small pieces. As always, have an adult assist.
Carefully chop deli meat and wash hands.
Time to Assemble The Egg Cups!
This recipe makes 6 Egg Cups. In each of the empty spots on your muffin tin, assemble the following ingredients. Adding just a little bit of each ingredient: hashbrowns, veggies, deli meat, cheese.
Next, pour your milk into your egg mixture, and beat the eggs with a fork until well combined. Add a pinch of salt and pepper. Pour the egg mixture over the other ingredients, filling each cup about 3/4 full. Wash your hands.
Carefully place them in the oven and set a timer for 18-25 minutes. Cook until internal temperature reaches 165 degrees and the eggs are set. Carefully remove from the oven, and use a fork to lift them out of the muffin tin. Be sure to turn off the oven and wash your hands. Enjoy!!
Notes
Optional Substitutions: 
- Don't have hash browns? Sub in a few pieces of cut whole grain bread. About 2-3 small pieces per egg cup. 
- Add in fresh, frozen, or canned vegetables. If frozen, thaw in the microwave for about 30-60 seconds. This will make it easier to cut into smaller pieces. 
-