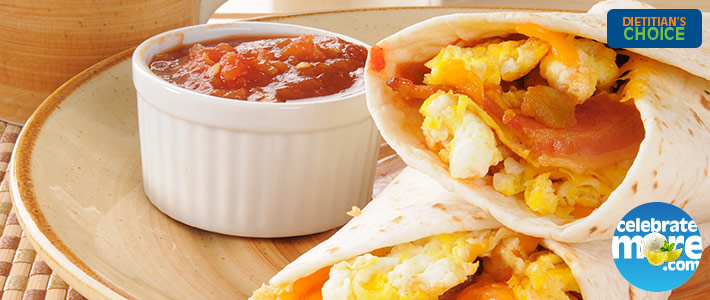 Ingredients
6 Eggs
1 Jar (12-16 Oz.) Salsa
1/2 Cup Onion, chopped
1/2 Cup Green Pepper, chopped
1/2 Cup Shredded Cheese, divided
6 100% Whole Wheat Tortillas
Instructions
Preheat the oven to 350 degrees F.
In a medium size bowl, beat together eggs, onion, green pepper, and half of the salsa in a medium bowl.
Spray a frying pan with non-stick cooking spray and heat over medium heat. Add egg mixture and cook until firm (similar to scrambled eggs), stirring constantly.
Add 1/4 cup of cheese to the eggs and continue cooking until cheese melts.
Add approximately 1/6 of the egg mixture into each tortilla. Roll up the tortillas and place in a baking dish that has been sprayed with non-stick spray.
Over the 6 tortillas filled with the egg mixture, pour the rest of the salsa and sprinkle the remaining cheese.
Bake for 10 minutes or until cheese is melted.
Notes
Recipe provided by Reach Up Head Start, Early Head Start. Get more recipes here.