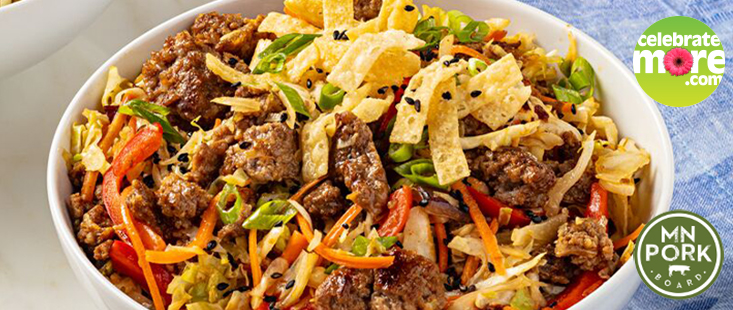 What's not to love about an Egg Roll in a Bowl? We use ground pork and brown rice as the flavorful foundation then customize with veggies & crunchy toppings!
Ingredients
1 Tbsp. Grapeseed Oil
1/2 Cup Red Onion, diced
6 Green Onions, sliced
1 Tbsp. Minced Garlic
1 Tbsp. Finely Minced Ginger
1 Lb. Ground Pork
2 tsp. Sriracha
16 Oz. Coleslaw mix (from 1 bag)
1 Red Bell Pepper, sliced thinly
1/2 Cup Matchstick Carrots
3 Tbsp. Lower Sodium Soy Sauce (or coconut aminos!)
1 tsp. Sesame Oil
1 Tbsp. Rice Wine Vinegar
1/4 tsp. Black Pepper
Salt (to taste)
Wonton Strips (for garnish, optional)
Black Sesame Seeds
Sauce Options
Hoisin Sauce (or duck sauce, drizzled for a sweet sauce, optional)
Sriracha (or sweet chili garlic sauce, drizzled for a spicy sauce, optional)
Greek yogurt (mix with sriracha and lime juice for a creamy sauce)
Instructions
Heat grapeseed oil in a large skillet over medium heat. Add red onion, cook 2-3 minutes. Add garlic and ginger and cook until fragrant, 1-2 minutes. Add ground pork and sriracha. Cook and crumble until pork is cooked through about 7-10 minutes. Add coleslaw mix, bell pepper, carrots, soy sauce, sesame oil, rice wine vinegar, black pepper and salt, to taste, and stir until well combined. Cook, stirring regularly, until cabbage is tender, about 5 minutes. Meanwhile, in a small bowl whisk together your favorite sauce combination.
Spoon pork-cabbage mixture into serving bowls. Drizzle with sauce. Garnish.
Notes
This recipe was created in partnership with our friends and farmers at the National Pork Board.