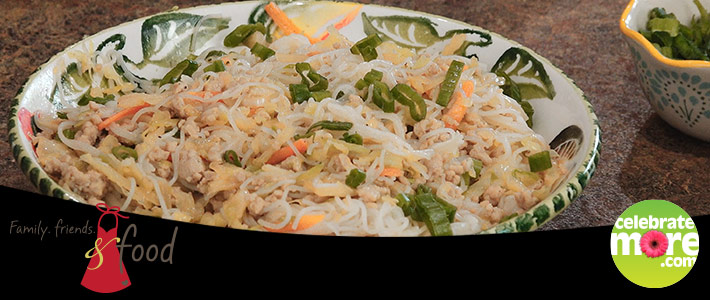 Ingredients
1 Tbsp. Sesame Oil
1/2 Lb. Ground Chicken
1 Tbsp. Soy Sauce
1 Garlic Clove, minced
1 tsp Ground Ginger
1/2 tsp Salt
1/4 tsp Pepper
6 Cups Coleslaw (cabbage with carrots)
4 Oz. Rice Noodles, cooked
Green Onions, chopped for garnish
Additional Soy Sauce, optional
Instructions
In a large skillet, heat oil over medium-high heat; cook and crumble chicken until 165°F. Stir in soy sauce, garlic and seasonings. Add cabbage; cook until vegetables are tender, stirring occasionally, 4-6 minutes longer.
Cook rice noodles according to package directions; drain and immediately add to chicken mixture, tossing to combine. Sprinkle with green onions. If desired, serve with additional soy sauce.
Notes
A super simple recipe to get the savory taste of egg rolls without the tedious process!