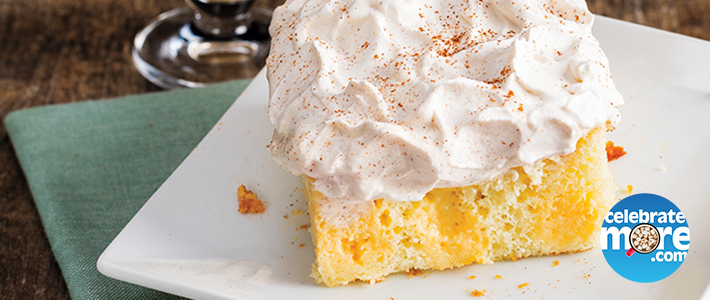 Eggnog Poke Cake with Cinnamon Whipped Cream
Ingredients
Nonstick Cooking Spray
1 Package (16.2 Oz.) Betty Crocker® Super Moist White Cake Mix
1½ Cups Eggnog
1/3 Cup Rum or Brandy
2 Cups Heavy Cream
¼ Cup Powdered Sugar
1 tsp Ground Cinnamon
1 tsp Vanilla Extract
Instructions
Preheat oven to 350°F; lightly spray bottom of 13 x 9-inch shiny metal or glass baking pan with cooking spray. Prepare cake as label directs in prepared pan; cool 15 minutes.
In large microwave-safe measuring cup, stir eggnog and rum; heat in microwave oven on high 2 minutes or until hot, stirring every 15 seconds. With end of wooden spoon, poke evenly spaced holes in warm cake; evenly pour eggnog mixture over cake, spreading with rubber spatula. Cool 15 minutes; cover and refrigerate at least overnight or up to 2 days before serving.
To serve, in large bowl, with mixer on low speed, beat cream, powdered sugar, cinnamon and vanilla extract 2 minutes; increase speed to medium-high and beat 5 minutes longer or until stiff peaks form. With rubber spatula, evenly spread whipped cream over cake.
Notes
If using eggnog that contains alcohol, omit the rum and use an additional 1/3 cup eggnog.
For a non-alcoholic version, omit the rum and use an additional 1/3 cup non-alcoholic eggnog.
Percent Daily Values are based on a 2,000 calorie diet. Your daily values may be higher or lower depending on your calorie needs.