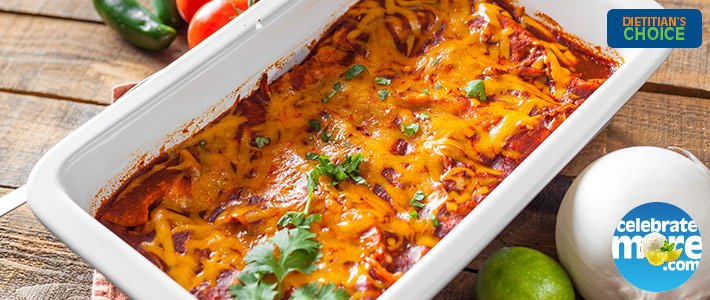 Ingredients
1 Tbsp. Canola Oil or Olive Oil
1/2 Medium Onion, chopped
1/2 Cup Mushroom, chopped (optional)
1/2 Cup Green Pepper, chopped (optional)
1 Can (15 Oz.) Kidney Beans, drained and rinsed
1 Can (15 Oz.) Diced Tomatoes
1 tsp Chili Powder
1/2 tsp Garlic Powder
8 Corn Tortillas
1 Cup Monterey Jack Cheese, shredded
Non-Stick Cooking Spray
Suggested Toppings:
Shredded Lettuce
Black Olives
Sliced Avocado
Light Sour Cream (or Try Plain, Non-Fat Greek Yogurt)
Instructions
Preheat the oven to 350 F.
Heat oil in a frying pan over medium heat. Add onion (as well as mushrooms and green pepper if you choose). Cook for 2-4 minutes or until tender.
Add in kidney beans, diced tomatoes, chili powder, and garlic powder. Stir well and let simmer for a few minutes.
While that is cooking, tear the corn tortillas into small pieces- about 2 in squares.
Spray a baking dish with non-stick spray. In the baking dish, layer the ingredients in the following order: half of the tortilla pieces, half of the beans and tomato mixture, and 1/2 Cup of cheese. Repeat with remaining ingredients for second layer.
Bake (uncovered) for 20 minutes at 350 F. Let cool for 2-5 minutes.
Top with shredded lettuce, black olives, light sour cream and avocados.
Notes
Recipe provided by Reach Up Head Start, Early Head Start. Get more recipes here.