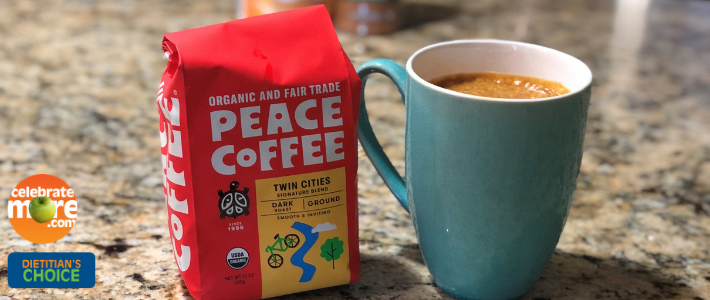 A single serving of a Fall Spiced Latte is made up of 3 components:
3/4 Cup Coffee concentrate

3 Tbsp. Fall spiced flavoring 

1/2 Cup Low-fat milk.
Start by preparing your fall spiced flavoring and the coffee concentrate. The coffee concentrate  makes two servings, and the fall spiced flavoring will make 4+ servings. Keep the fall spiced flavoring in your refrigerator for up to 5 days.  Please see the full recipes below for the coffee concentrate and the fall spiced flavorings to make this cozy Fall Spiced Latte!
Ingredients
Coffee Concentrate (makes 2 servings)
1/2 Cup Peace Coffee ground
12 Oz. Water
Fall Spiced Flavoring (can be stored in the refrigerator for up to 5 days)
1-15 Oz. Can 100% Pumpkin Puree
1/3 Cup Water
1/3 Cup Maple Syrup
1 1/2 tsp Cinnamon
1 1/2 tsp Nutmeg
Instructions
To make the coffee concentrate, prepare coffee by using half the amount of water you normally would use. In this recipe we are using 1/2 cup coffee grounds and 12 oz water.
While coffee is brewing, add canned pumpkin, water, maple syrup, cinnamon and nutmeg to a blender or food processor. Blend until smooth and set aside.
Once coffee is brewed, it's time to make the latte! Pour 3/4 Cup of coffee concentrate to a mug. Add in 3 Tbsp. of the fall spiced flavoring and 1/2 Cup of low fat milk. Enjoy!