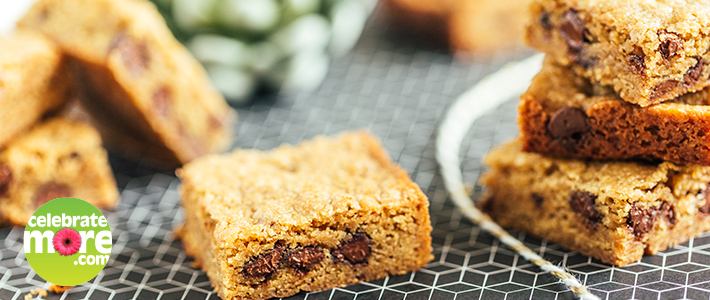 Favorite Chocolate Chip Bars or Cookies
Ingredients
1 Cup (2 sticks) Butter, softened
1 Cup Sugar
1/2 Cup Brown Sugar
2 Eggs
1 tsp Vanilla
2¼ Cups Flour
1 tsp Baking Soda
1 tsp Salt
1 (12 Oz.) Package Food Club Semi-Sweet Chocolate Chips*
Instructions
Preheat oven to 350°F. In large bowl of an electric mixer, place butter, sugar and brown sugar; beat until fluffy, about 3 minutes.
Add eggs one at a time, beating well after each addition.
Add vanilla and mix until combined.
In a large bowl, combine flour, baking soda and salt, add to butter mixture and mix until blended. Fold in chips.
Drop by rounded tablespoons onto ungreased or parchment lined baking sheets. Bake for 10 to 12 minutes.
Cool 5 minutes before removing to wire rack to cool completely.
Notes

Yield: 4½ dozen 2-inch cookies.  Alternately, pat dough evenly into a greased 15x10x1-inch jellyroll pan.  Bake 24 to 27 minutes.  Cool before cutting into 48 bars.
*Use 2 cups of chips when measuring from the 24 oz. bag of Food Club Semi-Sweet Chocolate Chips.