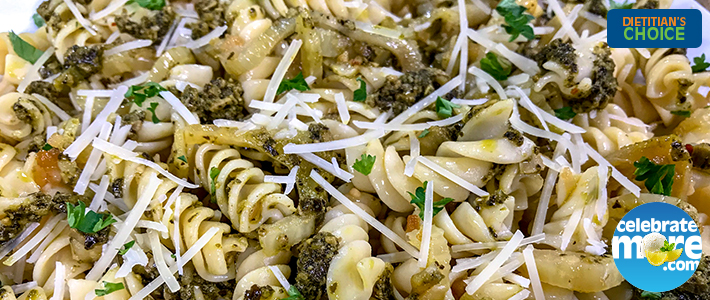 Fennel Pasta with Kale Pesto
Ingredients
3 Tbsps extra-virgin olive oil
½ red onion, thinly sliced
2 fennel bulbs, thinly sliced
2 tsp minced garlic
2 pinches red pepper flakes
16 ounces dry pasta of choice
1 jar Freak Flag Foods Super Kale Pesto
Instructions
Put a large pot of well-salted water on to boil.
Heat olive oil in a large frying pan over low heat. Add onion and cook gently for 5 minutes, or until onions begin to soften.
Increase heat to medium, add sliced fennel, and sauté gently for additional 6-8 minutes or until fennel is tender and slightly caramelized. Add garlic and red pepper flakes. Continue to cook, stirring frequently, for another 1-2 minutes. Turn off heat.
Once fennel is almost cooked, add pasta to boiling water and cook to al dente.
Drain pasta (reserving 1/2 cup of cooking water) and toss with onion and fennel mixture in pan, adding pasta water if needed.
Add kale pesto and combine.
Top with parmesan cheese, if desired.
Percent Daily Values are based on a 2,000 calorie diet. Your daily values may be higher or lower depending on your calorie needs.