Happy New Year!! We are so grateful for all of our guests and the opportunities that our team of Registered Dietitians have had to share our passion for health & wellness with you and your families. We look forward to another great year in 2020!
Meet Our Dietitians
For those of you who don't know us, we are Amy & Emily. Both Registered Dietitians who love to share recipes and resources to make healthy eating simple and delicious. We're here to inspire you and help you fall back in love with food in a healthful way. To stay up-to-date with our latest articles, recipes, and resources, be sure to check back often to CelebrateMore.com/dietitians.
Food Trends 2020
As we gear up for 2020, our team of dietitians want to share what we believe are going to be some strong health and wellness trends when it comes to food for the New Year. The three big trends include food transparency (with a big focus on local products), plant-based foods, and functional foods and beverages (think gut health!).
>> Food Transparency (Local)
Consumers are continuing to look for more information on the shelf-tag and on the product that help them know what's in their food (and what's not) as well as where it was sourced. Labels such as "Natural" and "Organic" will be sought-after by consumers, and in 2020, we believe we will see an increase in consumers who are looking for "Local". Here in the Midwest, we are proud to carry local products including produce, grains, meat, poultry, and even snacks. Although all local produce isn't available all year round (thanks to our cold winters), we still have a variety of items supporting our local farmers.
>> Plant-Based Foods
We've seen an increase in popularity of plant-based foods and the trend will only gain traction as we settle into 2020. Plant-based foods (especially produce items) can help consumers meet their daily goal of fruits and vegetables. In addition to produce, consumers are looking for more plant-based sources of protein, as well. There are many great options out there, including whole grains (such as quinoa, wild rice, etc.), edamame, and even tempeh. There are many other plant-based sources of proteins, such as burgers, too. Check out Emily's past article on plant-based proteins, Plant Based Or Plant Based Junk Food?. She will help guide you through the aisles ensuring that your plant-based choices are the best choices in regards to nutrition.
>> Functional Foods (Good for the Gut!)
More and more consumers want to be sure that the foods they are eating are beneficial to their health- in particular, good for their gut! Probiotics are some of those good-for-your-gut foods and can be found in many fermented foods. Some fermented products gaining popularity in 2020 include kombucha, miso paste, sauerkraut, and kefir.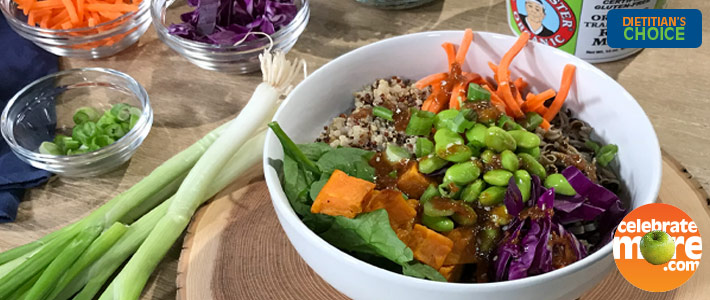 We're serving up an easy and delicious plant-based power bowl that uses local ingredients and is good for your gut!! This recipe is perfect for a busy weeknight and can be easily made ahead of time to pack for lunches throughout the work-week.