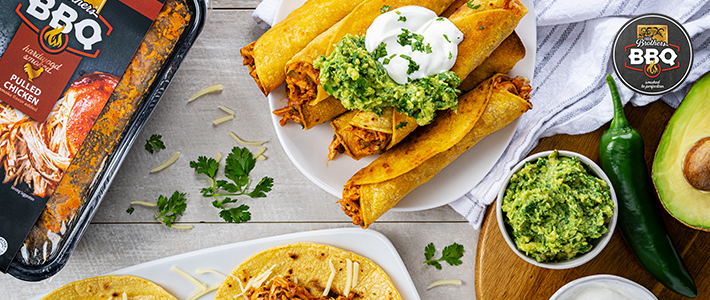 Four Brothers BBQ Air Fryer Chicken Taquitos
Total Time
1 hour, 5 minutes
Ingredients
1 Tbsp. Olive Oil
1 Garlic Clove, minced
1/4 C. Finely Chopped White Onion
2 Tbsp. Finely Chopped Jalapeño Pepper
2 C. Four Brothers® BBQ Pulled Chicken
3/4 tsp. Salt
3/4 tsp. Ground Black Pepper
1 Large Avocado, peeled, pitted and chopped
2 Tbsp. Chopped Fresh Cilantro
1/2 C. Sour Cream
1 Tbsp. Fresh Lime Juice
16 (6-inch) Corn Tortillas
1 Bag (6 ounces) Shredded Monterey Jack Cheese
Nonstick Cooking Spray
Instructions
In large skillet, heat oil over medium heat. Add garlic, onion and jalapeño; cook 5 minutes or until tender, stirring frequently. Transfer to large bowl; fold in chicken, and 1/2 teaspoon each salt and black pepper. Makes about 2 cups.
In small bowl, mash avocado with fork; stir in cilantro, and remaining 1/4 teaspoon each salt and black pepper. In separate small bowl, stir sour cream and lime juice. Makes about 3/4 cup avocado mixture and 1/2 cup sour cream mixture.
In batches, on griddle or in large skillet, cook tortillas over medium-high heat 4 minutes or until lightly browned, turning once. Cover to keep warm.
Preheat 3.3-quart or larger air fryer to 400°F for 5 minutes. Place 2 tablespoons cheese and 2 tablespoons chicken mixture on bottom half of each tortilla; starting at bottom, tightly roll up tortillas around filling and spray with cooking spray. In batches, air fry roll-ups, seam side down, in single layer 4 minutes or until tops are golden brown; turn and cook 3 minutes or until crisp.
Serve taquitos with avocado and sour cream mixtures.
Notes
No Air Fyer? No problem! These taquitos can be made in the oven, too! Place the filled taquitos, seam side down, on a parchment-lined rimmed baking pan, brush the tops of the taquitos with 2 tablespoons olive oil, and bake at 400° for 20 minutes or until golden brown and heated through.
Shop our Four Brothers BBQ online or in-Store at Coborn's, Cash Wise, or Marketplace Foods stores.